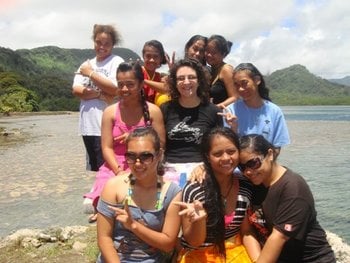 What makes teaching in Pohnpei with WorldTeach so special and unique?
Mary: The first things that come to mind are the people, culture, and the location. When volunteering abroad, people often comment on the kindness of their host country's residents, their welcoming nature, and their inability to (seemingly) never feed you enough. Nowhere is this truer than on the island of Pohnpei, in the Federated States of Micronesia. Volunteers live with host families upon arrival, and they are well taken care of. Volunteers are adopted into their Pohnpeian families, (one volunteer noted that after just one week, his family began referring to him as their "American son") and more often than not, volunteers raise the issue of how they can politely tell their host families they really only need to eat about one third of the food which is prepared for them. Pohnpei is a very sharing, communal society, and WorldTeach offers a glimpse into this very special island culture, while also allowing volunteers to contribute and give back in a meaningful way to this tiny island nation.
Another very special feature of teaching with WorldTeach in Pohnpei is the location. The Federated States of Micronesia is certainly off the beaten track and bypassed by many popular tourist routes, and for many, this in itself holds much of the allure and charm of volunteering here. Pohnpei is such a beautiful place with such warm people and fascinating culture and traditions, which very few people get to experience in their lifetime. As well, unlike many other WorldTeach programs, volunteers have the opportunity to teach not only English, but also math, science, and technology courses at the high school level or, with a Master's degree, at the College of Micronesia.
Did you teach abroad? If so, what inspired you to go?
Mary: I was always interested in doing "development work" (I'm not even sure I understood what that meant at the time). The summer after my junior year in college, I traveled to Kenya and taught in a rural Maasai village. After graduation, I still had my sights set on the elusive career of "development worker", but I figured I would first need some experience. I enjoyed teaching in Kenya and when looking for opportunities, I turned to WorldTeach. With WorldTeach, I taught at a primary school in the small town of Eenhana in Namibia. After one year, I was no closer in my quest towards development worker enlightenment, although admittedly perhaps I was a little closer in my quest towards becoming a teacher, so I figured, "hey, why not do it again?" As an island girl myself (East Coast Canada that is), I thought a change of scenery might be nice, and this is how I ended up on the island of Pohnpei in the FSM.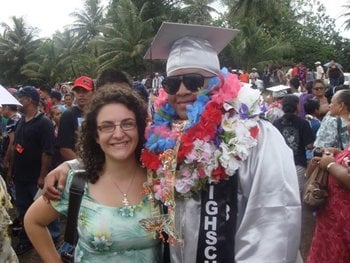 How do you see your time teaching abroad affecting your professional future?
Mary: While I only intended to stay a year, I now find myself in my second year as Field Director of the Pohnpei program and loving every minute of it. In addition to my Field Director responsibilities, I also teach one high school English class at the local high school in town, which is undeniably one of my favourite aspects of the job. On my quest to become a development worker, I realized it was no longer my goal; after WorldTeach, my next step will be going back to school to get my Master's degree in International Development Education. From there, hopefully I'll continue focusing on International Education and working with organizations like WorldTeach.
What should teachers know about the classroom and workplace culture in Pohnpei?
Mary: There are two things every prospective WorldTeach Pohnpei volunteer should know: 1) Island time, and 2) Pohnpei Met. Island time is just that, the time in which things happen on the island. Many cars have bumper stickers which read "Relax - this ain't the mainland", which fairly accurately describes the attitude towards time. Things will happen when they happen. While this is a system I can personally really get on board with, it is definitely something that takes adjustment for new volunteers. Time is a more open-ended concept here on Pohnpei; as one volunteer put it, "sure, I can sit for five minutes. But now what do we do? Oh, we're just sitting."
The second, "Pohnpei Met" which literally translates to "Pohnpei now", or more figuratively, "this is Pohnpei", is quite simply the answer to island time. A meeting was supposed to start at 9:00, but at 10:00 you are the only person present? "Pohnpei Met". Or, you show up to teach your 2 o'clock class, only to learn the cafeteria was out of food, so they made it a half day and sent everyone home at lunch but no one told you? "Pohnpei Met!"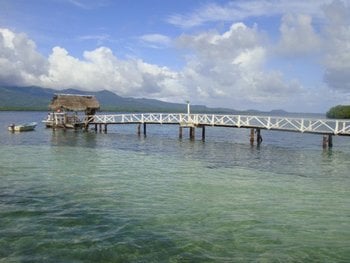 What is the most challenging part of teaching in Pohnpei?
Mary: When a teacher asks a question, they will most likely be met with silence, rather than students raising their hands or shouting out the answer. This often leads the teacher to believe no one knows the answer, that they do not understand or perhaps have not adequately covered the material. However, Pohnpeians are quite simply acting according to their culture. In a culture where humbleness is highly valued, a student would not want to "show off" their knowledge by letting everyone know they have the answer to the question, or embarrass their fellow classmates who may not know the answer. This can be challenging and frustrating for teachers to assess students and ensure they understand the lesson material. Possible solutions are discussed and practiced during the training sessions throughout WorldTeach's initial 3-week orientation.
What can you tell us about the current state of education in Pohnpei?
Mary: I feel the largest problem which has not yet been fully addressed is the prevalence of under- qualified teachers within the public school system, due to a lack of adequate teacher training. There are programs in place to address this issue. For example the mandate of WorldTeach in Pohnpei is to place volunteer teachers in vacant positions left by teachers taking leave. Many qualified teachers and other professionals are leaving Pohnpei in search of academic or career opportunities outside the FSM, and more often than not, they tend to remain in Guam, Hawaii, or the United States because of better prospects and financial gain.
Despite these issues, I feel the education system in Pohnpei is moving in the right direction. The College of Micronesia where the majority of Pohnpeian teachers study, just recently renewed their accreditation which is a wonderful step forward for the college. Also, as Internet becomes more readily available, communication will be greatly improved, and online education will be a much more viable option for many to further their education. Pohnpei's public education system still has a ways to go, but every little bit helps. If you are thinking of joining WorldTeach Pohnpei, know that your efforts will make a positive impact on the current education system in Pohnpei.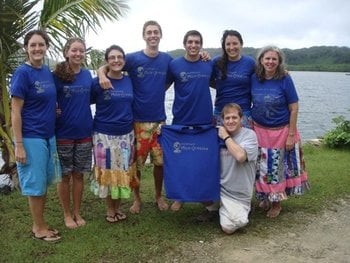 What is one piece of advice you would offer someone considering teaching abroad in Pohnpei?
Mary: When applying for WorldTeach, it is essential to know yourself, and to truly know why you wish to teach abroad. Difficulties can arise when prospective volunteers searching for gap year opportunities or post-college opportunities use WorldTeach as a means to an end, and are in it for the adventure rather than the teaching. The WorldTeach home office and Field Staff invest a large amount of time and effort in training volunteers to become the best teachers they can possibly be to make the most of their experience. This is difficult when the volunteer is not fully focused on their teacher role. WorldTeach is a full-time teaching job with a large amount of responsibility, an aspect that cannot be underestimated or overlooked when applying.
That being said, WorldTeach will undoubtedly be one of the most rewarding experiences and one of the biggest adventures you will ever embark upon in your life. If you are interested in WorldTeach Pohnpei, I highly encourage you to contact WorldTeach, get in touch with an alumnus, and prepare yourself for the most challenging, exciting, rewarding year of your life!