What is your role at Lead-Adventures? What inspired you to join them?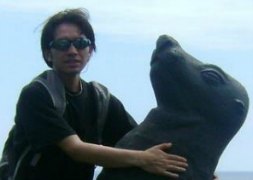 Santiago: My work at Lead is in operations, booking services, hotels, transfers, creating new volunteer programs, involving ecological tourism, social assistance, and conservation work in the Andes, Amazon, and coastal region (mainly, the Galapagos islands).
This agency inspired me, because it is different from the other ones. Lead works with some organizations (both private and governmental) in a non-traditional way, always considering sustainable methods in order to help the flora, fauna, local communities, as well as the economy of the country.
What aspects of your role do you most enjoy?
Santiago: I really enjoy meeting the volunteers, hanging out and showing them the cities and the surroundings. Learning from their cultures, from the first moment they arrive in the country until the time they have to leave it is so rewarding. It is really exciting and satisfying to offer them the best services, while they are participating in the volunteer programs and appreciating the beauty of Ecuador.
What is your favorite story of a volunteer's experience with Lead-Adventures?
Santiago: Some years ago, an Irish guy came to one of our teaching programs in a local community located in the rainforest. He spent 2 months over there, teaching in two different schools. After those months, he fell in love with one indigenous woman who used to help him with the lessons for the little ones.
He felt so happy sharing with her, the family, customs and traditions of the community, that he came back to his country some days, and returned to Ecuador immediately to propose to her and eventually got married. Now they have 2 children and live in the Amazon. He has been accepted in the community and lives happily with his family.
Where do you see Lead-Adventures in the next 5 years?
Santiago: I see it as the most important agency in South America, running new programs, regarding volunteering and sustainable tourism, not only in Ecuador but also, in other countries on the continent. I see the agency working with more NGOs and governmental institutions, bringing volunteers from all around the world.
What should every volunteer considering Ecuador and the Galapagos know?
Santiago: They should know that Ecuador is a paradise. It has three beautiful regions just hours of distance between them, with national parks known and protected by international organizations - such as the Galapagos islands, or the Yasuní National Park. We have lots of attractions too, like the local traditional food, historic towns in each region, wonderful beaches, and flora and fauna unique in the world. But mainly, we have the kindest people in Latin America.