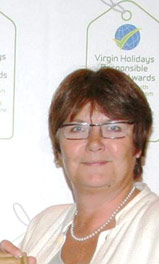 Tell us a little about Scope and your role at the company.
Sallie: I'm Sallie Grayson, co-founder of People and Places - a social enterprise that recruits skilled volunteers. We are based in the UK, but we work all over the world. I spend my time between the UK, traveling, and my second home in France. I know, but someone has to do it!
Give us your story. How did you get involved in the volunteer industry?
Sallie: It's all the fault of Harold Goodwin (Professor of Responsible Tourism, Leeds Metropolitan University). I met him in the Gambia where I was volunteering (after I'd sold out my share in the retail business I was managing).
I had a great time and believe I did something meaningful – despite the organization I travelled with, not because of it. Harold was working with the Gambian government on their tourism policy. We were staying in the same small hotel and we compared notes about how volunteers and communities are so badly-served by many sending organizations. Beer-talk led us to decide that the best way to demonstrate the potential of responsible volunteering was to do it ourselves. That was back in 2004 – we placed our first volunteer in 2006.
In your experience, what characteristics make a good international volunteer?
Flexibility – It's never going to be exactly as you planned
Patience – Other people's priorities may not be yours, and timekeeping is always going to be a challenge!
A sense of humor – Otherwise you'll spend the whole time weeping!
The ability to listen – Not all your skills and experience will be appropriate in the local context. Establish what the realities are before diving in
Focus – You'll see so much need. You can't address everything, and in trying to do too much, you risk achieving nothing
A skill and the ability to share that skill – That may be mending a bicycle, designing an accounting system, or healthcare
Oh, and my partner Kate who prepares the volunteers for their placements says – "a strong stomach!"
How can volunteers stay centered with realistic goals?
Sallie: It's all in the preparation! For goals to be realistic they need to be agreed on - by the volunteer, the community they'll be working with, and the support team that facilitates the volunteer's placement. A realistic goal in your own environment will not necessarily be achievable in the volunteering context. Cultural, economic, emotional, and political circumstances will be new – that slows things down. We tell volunteers, "take what you think you may be able to achieve, halve it, halve it again and then cut it by 50%!" We soften this with the promise that we're in this for the long haul and we'll help future volunteers to build on their work.
What is the continuing benefit of volunteering abroad after a volunteer returns home?
Sallie: It varies from person to person – some find the experience life-changing and return to take on new challenges in their lives; others simply see the world slightly differently. All our volunteers return home telling us that they have learnt something new about themselves – a strength they didn't know they had; a weakness they need to work on! For communities where they've worked, mutual friendship and understanding are as important as the skills shared by volunteers. There's a great word in Xhosa, "Ubuntu," which means something like "I am because you are." That's the lasting feel-good factor for volunteers and communities.
Tell us about People and Places, and how your organization encourages 'responsible volunteering.'
Sallie: We have some core values that we will not compromise!
No volunteer will replace local employment – Volunteers work with not instead of local people
No local community will subsidize a volunteer – All volunteers are completely self funding, right down to paying for their own farewell party!
Transparency and accountability – Volunteers and communities knows where the money goes
Informed consent – No volunteer is placed without the prior consent of and discussion with the project. The needs of the community are paramount
The safety of the community and the volunteer is vital – For example, all volunteers are screened and risk analyses are done for all projects and accommodation
We work with award-winning local partners – They already have superb responsible travel credentials
We started People and Places to campaign for responsible volunteering – We walk the walk and talk the talk! I spend a lot of time canvassing for responsible volunteering and a lot of time looking for great practitioners. Then I try and learn as much as I can from them
How do you respond to the criticism that volunteering abroad can do more harm than good?
Sallie: Well, you know what? Sometimes it does! My answer? As with any other market, the power to bring about real change sits with the consumer. Volunteering has two consumers, the volunteer and the community, guests and hosts. It's the volunteers' responsibility to do all they can to ensure that the organization they're volunteering with is ethical and responsible. Ask all the right questions – look past the marketing hype, do your research, and PLEASE report bad practise! There are lots of forums you can post on.
Its more complex for projects. It's nigh on impossible for them to turn down income and assistance – they have so few resources. The trouble is they often accept very little income and the wrong assistance!
To steal from Krippendorf (the pioneer of responsible travel), we need "rebellious tourists and rebellious locals." Of course, it's a given that sending organizations need to be more responsible, but the reality is that many organizations won't change until it starts to affect their bottom line – and that will only happen if consumers say "Enough already!"
I also think the media must exercise more responsibility – there's a flood of articles that seem to imply that sending organisations are just greedy baddies, that's not true or helpful, but what's really worrying to me is the suggestion that fees can be avoided altogether by volunteers making their own arrangements directly with projects, or by just turning up on the doorstep, unprepared, and unscreened. This is horrifying – it's immoral, irresponsible, and a recipe for disaster. Only very few projects have the capacity to screen, prepare, and manage volunteers.
What does the future hold for you?
Sallie: The joy of meeting and working with yet more inspirational people – and a sailing holiday would be nice! In my previous life, I used to find the time. Now, either my time management is rubbish, or I'm just too driven to take a break – or maybe it's both?
Famous last words?
Sallie: Can a (wo)man eat an elephant? – yes, though not all at once!