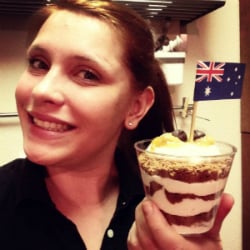 What position do you hold at AAG? What has been your career path so far?
Laura: I'm French and I moved to Austin, TX, as a participant in program with Alliance Abroad. I worked within the hospitality industry for 5 years as a Manager and a Chef. I was eager to work abroad and felt ready to start a new adventure (as I was young and brave!) I thought that it was the right time for me to move abroad. Currently, I'm a Program Coordinator for the Work Experience Australia program, and it's the most amazing job I've ever had!
Why is language learning and cultural immersion important to you?
Laura: I learned English at school for 6 years, and then didn't practice for 8 years. When I decided to move to the USA, I must say that I was scared of not being able to understand everything around me, vocabulary wise and accent wise. And I was right, that was very hard.
But I believe that the best way to learn a language is to be in a survival mood abroad: if you make the effort to meet and speak with people around you, you'll be alright. I have learned more within the past 2 years in the USA than I did studying in my home country for 5 years. During my time in the US, I've broadened my horizons and opened my mind to new ideas.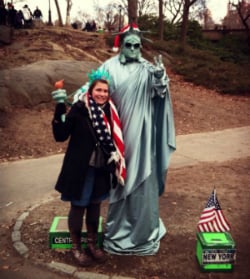 Describe a time when you felt especially proud to be part of the AAG team
Laura: I am proud every time one of my participant is sharing a step they took. Every student is different – for some of them, the hardest step is to handle a 26 hours flight, for some others, the most difficult is to allow time to miss their families.
In all cases, I'm proud of them when they tell me: "my first day of work was awesome!" if this is what they feared. Or "I safely arrived in Australia" if they were scared of the long flight. I'm just proud to meet them and assist them, and that they feel confident to share their experience with me.
The best thing ever is when I receive postcards from my participants – I'm glad they think of me from Down Under and I really like to let them know that it's really cool to make me jealous with sharing the wonderful places they went to!
How have you changed/grown since working for your current company?
Laura: I definitely grown up since working for AAG. I believe the main reasons are that first, I'm working and living 8000km away from home, so I am glad I have that experience I can share with my participants and it probably helps them feel understood when they are homesick or fear that.
I had never worked with human resources before, and it's amazing how everyone teach you something: values, stories, recipes, tips abroad, whatever is good to take! AAG is my family, and I met the most amazing people here.
It feels good to work with international colleagues as you know that they'll understand how you feel when you're missing a birthday or Christmas in your home country. The main thing that AAG helped me develop is my ability to listen to people, instead of just hearing.