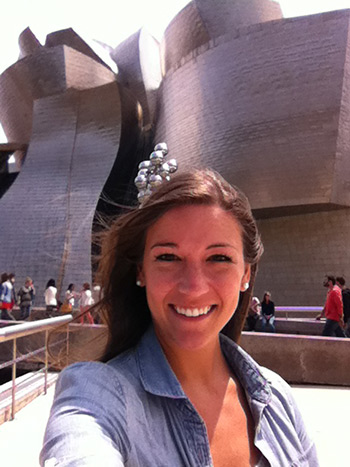 What position do you hold at SPI? What has been your career path so far?
Celeste: I started with an internship at SPI Study Abroad, and a couple of months later I was hired as the new Program Advisor fall of 2008! I am currently the Admissions & Program Director, going on 5 years with SPI, working to help parents, students and educators through the high school study abroad experience. During the summertime I am based in Spain as an on-site director for our San Sebastian, Spain program.
I have loved every minute of working with SPI Study Abroad as it combines many of my passions, including international education, Spanish and language learning, working with people from across the world, and of course travel. The highlight of working with SPI Study Abroad for me, though, is definitely getting to be abroad with our groups during the summer and seeing the students through the life-changing experience that study abroad is!
Did YOU study abroad? If so, where did you go and what inspired you to go?!
Celeste: I actually studied abroad with SPI when I was a high school student! My mother's family traveled a ton as my grandfathers job took them to many different countries. Both of my parents are fluent in Spanish (and other languages), so they were very encouraging and supportive of me doing an immersion experience, even as a 16 year old at the time.
I attended the SPI Cadiz, Spain summer immersion program as a junior in high school, which is what then inspired me to continue with my Spanish, as well as to pursue study abroad again in college. While completing a double major in Advertising/Public Relations and Spanish, I studied for a summer at the University of Guanajuato, Guanajuato, Mexico, followed by an intensive six month program at the Universidad Carlos III in Madrid, Spain, also participating in a marketing internship.
What does the future hold for SPI - any new programs to share?
Celeste: For 2013 SPI Study Abroad has implemented a global leadership component to our Spain, France and Italy immersion programs. This will give students firsthand experience and insight into foreign leadership/government, businesses and educational institutes through on-site visits, guest speakers and excursions.
For students more interested in volunteer or service learning, this summer the Costa Rica program will have additional volunteer opportunities, such as home/local building repair and painting, public works project, visits to orphanages, wildlife and nature conservation projects and more.
There is always something new and exciting in the works! We are always striving to make our programs the best they can be and to cater to the needs and interests of our clients. Several new destinations are also being considered for future years (South America, more Europe and Asia), but nothing will be officially announced until finalized in 2014.
What about the future of the industry? How do you think study abroad and international education will change over the next 10 years?
Celeste: We have continued to see study abroad numbers increase over the years across the board, which is great! For our specific niche of high school study abroad, I expect more schools will begin to implement global initiative programs. High school study abroad is not nearly as common as going abroad in college.
Some schools we work with have even already made it a requirement for their students to complete an immersion experience or international education program prior to graduating. Over the next 10 years I wouldn't be surprised if more schools caught on to that idea. It is especially important that our youth have these opportunities for success in our increasingly global community.
What differentiates SPI from other study abroad providers?
Celeste: SPI Study Abroad programs were actually founded by language educators and we still work very closely with language teachers from across the U.S. Our programs are also modeled after the college study abroad program, but designed specifically for high school students, and to accommodate students of all levels participating in our programs.
We pride ourselves in the personal service we provide each of our participants and their families - from start to end of the experience. We also keep our program groups small, with a 1 to 8 director to student ratio and groups no larger than 26 students.
Our prices are competitive and our programs include the best of both worlds - true language immersion and cultural exchange, as well as travel and sight-seeing - not to mention our students have the opportunity to earn college credit from their coursework!