What position do you hold at Ultimate Travel? What inspired you to join them?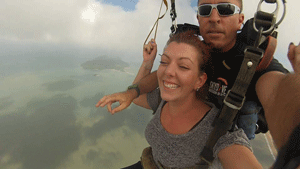 Gayle: Hi, my name's Gayle and I've been with the Ultimate Travel guys since Nov 2013 as their Digital Marketing Manager.
It's my job to make sure all you lovely people out there know what we do and how awesome we are at it!
It's important to me because I came out to Australia on a similar program but it was not as supportive (or as fun) as the one that Ultimate Travel offers, I think what we do is great and would have much preferred to have done UltimateOz than the package I did do!
What do you most enjoy about your role?
Gayle: My role is so varied and I love being able to research and write in the company blog about all the amazing things you can do in the areas that we offer our arrival packages.
It's great fun letting everyone know what's available for the next adventure once you've finished with your Ultimate Travel package (and it helps me add a few new things to my travel bucket list too!)
What makes Ultimate Travel's programs so unique?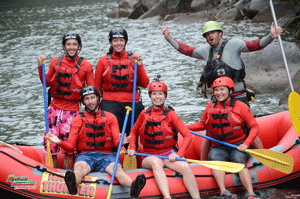 Gayle: It's our Ultimate Travel Crew that make our programs so unique! We have some awesome staff who work so hard to make sure that you start your journey in the most perfect way.
The majority of the people who work for Ultimate Travel have all travelled the destinations we offer extensively... some of them are still traveling and have just stuck around to help us out for a few months so they can fund their next adventure.
We know what it's like to pack up and start off on the adventure of a lifetime – because of this, our service goes far beyond just helping you book the next step of your journey, we really are here to support you in any way you need.
(And when it does come to booking the next part of your trip, we don't just talk the talk, we really do walk the walk!)
What is the best story you've heard of a participant's experience?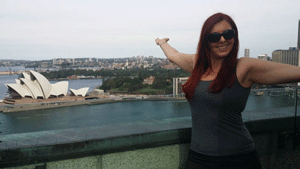 Gayle: My favorite Ultimate Travel story comes from one of our Ultimate Thailand travelers who loved our tour so much, he got a tattoo of our logo ... what an absolute legend!
Which Ultimate Travel destination is secretly (or not-so-secretly) your favorite and why?
Gayle: It is so hard to pick just one Ultimate Travel destination as a favorite!
I've seen some incredible things while I've been in Australia and loved my time so much, I've decided I never want to leave!
I loved my time on the East Coast, (Fraser Island and the Whitsunday's are actual paradise but there is also much more to the East Coast if you look in the right places!)
I've still got so much to see here, never mind beyond Australia! I'm really looking forward to booking on to the UltimateOz Outback tour next year which will take me right through the heart of the Australian Outback – something a little different to the usual backpacker trail!