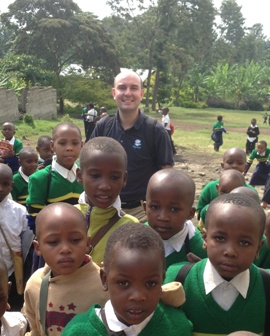 What position do you hold at Oyster Worldwide?
Jon: I joined Oyster full-time in 2007 as a Destination Manager before moving on to become the Operations Manager in 2011. As well as running our programs in Tanzania, Nepal, France and Canada.
I'm in charge of the less exciting but essential aspects that keep Oyster ticking – from dealing with the IT to creating systems to ensure that all of our programs run smoothly and our participants have an excellent time overseas.
What led you to join Oyster?
Jon: I first found out about gap years at a talk at my school. Roger, today my boss, came in to talk about the opportunities available to students before university. I was hooked on what he had to say and was particularly intrigued by the Tanzania teaching program.
In 2004 I headed off to Tanzania to become a volunteer teacher with Oyster for 5 months. This was an amazing experience. I learnt so much about myself.
I gained independence, confidence and a new found respect for different cultures. Living away from home for the first time (in a house without electricity and water!) certainly made moving away to university much easier!
What do you most enjoy about your role?
Jon: Being a relatively small organisation I love that I can follow someone right through their gap year journey and see them develop along the way. Right from that initial, tentative, enquiry, through to contacting someone on the return from their travels, it is extremely satisfying to know that I had a hand in making those plans a reality.
What do you think makes Oyster's projects unique?
Jon: Our owner and Director, Roger Salwey, was one of the first people to formally send young people on gap years in the UK back in 1994. Since then all three of us full-time staff have been an Oyster participant and been through our process (long before we ever imagined we would work here!). I think that is quite unique in our little industry!
Having been through the process ourselves, we are all passionate about travel and are committed to improving our programs so that future participants can enjoy the same (or better!) experience that we all did.
What's your favourite Oyster Worldwide story?
Jon: I remember interviewing a potential Nepal teaching volunteer a few years ago who told me that her hobby was juggling (she was part of a circus) and that she wanted to teach the kids in Nepal how to juggle, when she wasn't teaching English.
I thought that this was an excellent extra-curricular activity to organize and possibly something new for the kids. A few months later, the volunteer emailed me from Kathmandu to say that she had not only taught the kids to juggle, but also most of the villagers!
Everyone was wandering around juggling! I thought this was a great little story so told future volunteers about this experience as an example of how you can pass on your own skills and interests whilst on an Oyster project.
About 18 months later, I remember receiving an email from a volunteer that we sent to the same village who remembered the juggling story.
He told me that the villagers had actually taught him to juggle! Even a year after the juggler left, the villagers were still using her skill.
This just goes to show the impact that volunteers can have on a community. It may not be juggling that you bring to a community as your passion, but whatever it is, it can be picked up and used by others.
What tips do you have for first-time travellers abroad?
Jon:
1. Plan your trip in advance. Don't leave things to the last minute as you may find that there are no places available on the trip that you have chosen.
2. Do your research and make sure you are comparing like for like. Don't just choose a program on price alone, ask questions to see whether flights, food, accommodation and insurance payments for example are included or not.
3. Don't just 'travel' on your gap year. Spend time immersing yourself in one place for a month or more so that you can truly experience a new culture, living as a local, and not just as a tourist passing through.