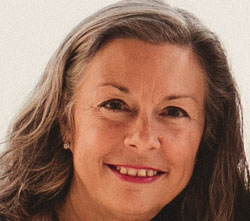 What position do I hold at AUS? What has been my career path so far?
Linda: I currently serve as Director, International Exchange Programs since January 2010, but I joined AUS in August 2007 as an Associate Professor of Operations and Project Management in the School of Business Administration.
I moved to the UAE from Wellington, New Zealand, where I had lived with my family for 7 years - initially on the faculty of the Victoria Management School, but later I left academia to work as a manager in the research sector for the New Zealand Government.
Prior to moving to New Zealand in mid-2000, I was an Assistant Professor of Operations Management at the Smeal College of Business at The Pennsylvania State University (i.e. Penn State). Before that, I was a Fulbright Research Scholar at the University of Muenster in Germany for two years, working towards my Doctorate in Business Administration (DBA) at Boston University.
I came to the academic world after earning an MBA from Babson College, and then working for several organizations in the Greater Boston Area - in the fields of Market Research, Investment Brokerage, Interior Construction, and R&D!
Did I study abroad, and where? What inspired me?
Linda: My first study abroad experience came while I was attending my MBA program, and I had an opportunity to do an international internship with Horwath & Horwath Consulting on Baker Street in London, England. I had been inspired to have an international career after listening to my International Business Professor regale us with his tales of living abroad in India and Japan.
When I went to London, it was my first time ever travelling abroad, and I was very surprised to find the culture to be so very different! It was a huge shock - I didn't know how to turn on the TV or the clothes washer, I weighed myself and had no idea what 'stones' were, I would hold my money out for cashiers to paw through and take what they needed, and I struggled to understand the strange language being spoken, with terms such as 'lorry' and 'brawlie' and phrases such as 'mind the gap', etc.!
After I finished my internship, my best friend and I spent a month and a half backpacking around Europe. It was an amazing, wonderful, eye-opening experience and I found that I was completely enchanted! A few years later, I received my Fulbright Scholarship to conduct my Doctoral Dissertation Research in Muenster, Germany.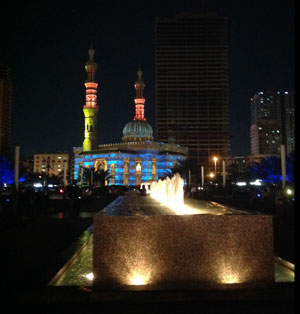 My husband and I lived there in a 'wohngemeinschaft' (i.e. house full of German adults) for two years, during which our oldest daughter (and my dissertation) was born.
After that, I couldn't wait to go abroad again, and when the opportunity came to move to New Zealand in 2000, we jumped at the chance with our two young daughters in tow, and never looked back!
Seven years later, we made a similar transition to the United Arab Emirates to join AUS. We have loved every moment of our time abroad.
What does the future hold for AUS - any exciting programs to share?
Linda: We have grown our Summer Intensive Arabic Language Program considerably over the past few years and next summer we will add an Intermediate level of instruction to the mix.
This program has received rave reviews from all participants to date. In addition, both our inbound and outbound study abroad numbers have grown significantly, as well.
As we approach our 20th anniversary as an institution, and our 5th anniversary as the International Exchange Office, we are celebrating all of our huge accomplishments since our founding, and thinking about where we would like to focus for the next twenty years, and beyond!
What country have I always wanted to visit?
Linda: Botswana! Ever since I read Alexander McCall Smith's series 'The Number One Lady's Detective Agency', I've been wanting to go. I am charmed by his description of the people, the culture, and the land. This country is definitely on my wish list!
What was my favorite traveling experience?
Linda: My family and I have very fond memories of a day we spent driving from Muscat to Al Hadd in Oman. We hired a guide for the trip, and our first stop was at a sinkhole called Hawiyat Najm. We climbed way down and swam in the emerald green waters thinking the whole time about how our guide had told us that no one had ever been able to find the bottom of this sinkhole. We particularly loved swimming in the caves around the edges!
After a few hours there, we continued south until we got to the little village of Tiwi, where we had the best lunch we had ever had at this tiny, hole-in-the wall non-name cafe that didn't even have menus (our guide ordered lunch for us). After lunch, we went to Wadi Shab and began hiking up the wadi, sometimes climbing along the old falaj (i.e. traditional Arab irrigation system) in the cliffs, and oftentimes having to swim through the natural pools filling the wadi.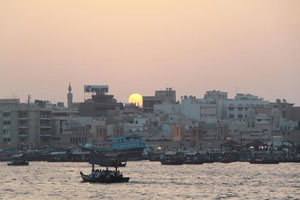 My family was brave enough to jump from high on the cliffs into some deep waters below, while I stood nearby clutching my heart in fear!
Eventually, we came to what would seem to have been the end of the wadi - a sheer cliff with deep water in front - but our guide just continued swimming on to a small, head-sized crack at the base of the wall and disappeared in.
What could we do but follow him through a very strange tunnel that just barely fit our heads while our arms and legs splayed out below the rocks which seemed to end just below the surface of the water.
After several meters of this tunnel, we came out into a natural cave with some cracks in the ceiling allowing in light.
The cave contained a waterfall and a natural ledge, and we spent an hour or so climbing up the water fall and jumping into the water. It was magic! Eventually, we made our way back to the entry of the wadi and continued south to Al Hadd, where we settled into our hotel and reserved a spot for a late night tour of the Ras Al Hadd Seaturtle Nature Reserve.
It just happened that we had arrived during the full moon, which is apparently the best time to go. We spent hours on the beach, watching huge mother sea turtles lumbering out of the water and up to the beach, digging deep holes, and laying their many golf-ball sized eggs. At the same time, all around us there were tiny baby sea turtles hatching and making their way back to the water, guided by the moon. What a perfect day that was, and so unexpected!!