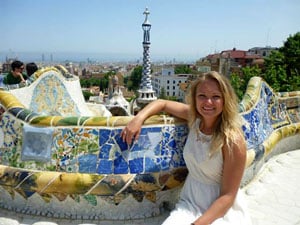 Did YOU study/work abroad?! If so, where and what inspired you to go?
Brianna: As mentioned, I studied abroad in Ireland, Costa Rica and Spain. Each location was so unique and different and I was able to experience the true culture of each country. Costa Rica and Spain helped me improve my Spanish skills and Ireland was somewhere I had always wanted to visit.
What country have you always wanted to visit?
Brianna: I would love to visit Germany because my family is German and I would love to experience the pub culture and taste German beers.
What was your favorite traveling experience?
Brianna: Going to Galway by myself was a really great experience because it was the first time I had travelled completely alone. I met so many friendly Irish people and loved the city and sights. I really enjoyed the music and open air market.
What is the best story you've heard from a return student?
Brianna: A student went to London and joined a spelunking (cave diving) club. For a whole semester he went spelunking every weekend throughout the UK.