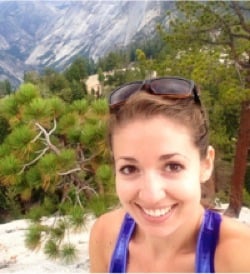 How does your organization differ from other ones in the industry?
Casey : As an experiential education company, ThinkImpact takes studying abroad a step further; we like to get students out of the classroom and into the real world!
Our scholars live in home stays in rural communities in Latin American and Africa. Our scholars eat what the locals eat, shower with buckets of water, help cook and prepare meals over a fire and much more. In addition to studying our customized curriculum that educates students on the importance of Asset Based Community Development and Human Centered Design, our scholars get to assist in the set up and prototyping of small businesses. Our scholars leave our program with more hands on knowledge of international development as well as the satisfaction of knowing they are leaving a lasting impact on the community in the form of a sustainable business. Sounds like a pretty impactful summer to me!
What is the level of cultural immersion your scholars receive?
Casey: As I mentioned above, our students are about as immersed in a culture as a foreigner can possibly be. Our students live, sleep and eat the same way a local family does for the duration of our programs. Our students are given local language lessons and are encouraged to practice with their home stay families and community members. They shadow their home stay and local community members for an entire week during our longest program to get an idea of how work is conducted in the rural communities. You'll even see some of our students waking up at sunrise to accompany their family while they fetch the day's water supply.
How does your program support sustainable projects within the community?
Casey: One criterion of the businesses our scholars assist in creating is that they MUST be sustainable businesses. Our scholars leave our program knowing that the businesses they helped create will continue long after the students are gone. This is why our curriculum focuses so heavily on Asset Based Community Development. Our scholars create businesses that build off of pre-existing assets in the community instead of trying to introduce a new technology or ideas that might require a more long term, dependent business model.
What is one thing you would tell any future scholar?
Casey: I want to tell future scholars how much ThinkImpact's Summer Institute positively impacted my life. Before I went through our institute I was a junior in college learning about international development from a classroom in California. I was being taught that need based assessments were the only way to gauge a community's level of development. I saw development through a very narrow lens and I viewed rural communities as needy and uneducated.
My experience in Kenya taught me that there is so much more to the communities we worked with than I ever could have known without living with them and experiencing life they way they do. Not only did everything I learned positively affected my educational and career path, I returned to the states a much more grateful and educated person. Sometimes it's even hard to put into words how much my experience changed me and how much it meant to me.
How do you think learning abroad will change over the next 10 years?
Casey: I think many study abroad companies are changing from the traditional classroom experience to a more hands on experience, and that excites me! Graduate schools and future employers no longer look at a candidates' GPA as the most important factor in admissions. They want to see an applicant that can not only survive but thrive in ever changing, at times difficult, multi-cultural environments.
In our increasingly globalized world, multinational companies and NGOs want to see evidence that candidates can work well with people from different backgrounds and cultures. To be that candidate you have to get out of the classroom. My hope is that every student that has the opportunity and resources to study abroad through an experiential education company will do so.