1. What position do you hold at the English Opens Doors Program? What has been your career path so far?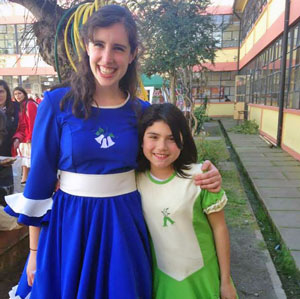 I am currently an International Assistant for the National Volunteer Center in the English Opens Doors Program of the Chilean Ministry of Education. I graduated from Northwestern University with a B.A. in International Studies and Political Science.
During my time in university, I was involved in numerous social-change based organizations that focused on public policy and socially responsible global development. I also interned at various organizations in Chicago including a nonprofit, a foundation, and a political advocacy group.
After graduation, I was selected as an English Opens Doors Program volunteer and was placed in Angol, a small town in the south of Chile. My experience teaching, getting to know my students, and integrating into the community was one of the most rewarding experiences of my life.
After completing my volunteer service, I applied for and then happily accepted a position to work in the Program´s central office in Santiago and help other volunteers have positive, life-changing experiences!
2. Did YOU teach?! If so, where and what inspired you to go?
I taught English as a second language throughout high school and college before teaching as an English Opens Doors Program volunteer. After a community service trip to Mexico where I struggled with my Spanish, I was inspired to help immigrant communities also challenged by language barriers in my home cities.
During university, I studied abroad in Valparaíso, Chile and absolutely loved Chile and its cariñosa people! After graduating, I was inspired to continue teaching English and was looking to return to South America.
I was drawn to the English Opens Doors Program for many reasons! I was excited for the culturally immersive aspect of living with a host family and was impressed by the amount of support the English Opens Doors Program gives to its volunteers. I also wanted to make a difference by helping young students and knew the Program would have a strong social impact because it is part of the Ministry of Education.
3. What does the future hold for the English Opens Doors Program- any exciting new programs to share?
The English Opens Doors Program is entering an important new stage in its history! Chile is undergoing a major reform to its public education system and the English Opens Doors Program has been given the mandate of improving English language education in 1,200 schools over the next four years.
For the volunteer initiative, we are aiming to bring approximately 300 volunteers per year to public schools across Chile. In preparation for this expansion, we have amplified and strengthened our resources and support for volunteers serving in the Program.
We have also worked a great deal to recruit passionate volunteers and streamline our application process. Looking ahead, we are very impressed by the quality and diversity of our incoming volunteers and cannot wait to see the huge impact they will have in schools all across Chile. We are extremely excited that more and more Chilean students will have the experience of working with a native or near-native English speaker!
4. What about the future of the teach abroad industry in Chile? How do you think things will change for ESL teachers in the next 10 years?
Chile is growing quickly and looking to capitalize on new opportunities for social and economic development. English is a big priority both for the government and educational system, as well as for individuals looking to improve their skills in an expanding global economy.
The English Opens Doors Program focuses on strengthening English language learning at the roots, in the Chilean public education system. Our volunteers play an important role in helping students and teachers practice English in an authentic, dynamic context. Volunteers also can share innovative teaching styles and provide a unique opportunity for cultural exchange in their schools.
Hopefully in 10 years, more Chileans will have equal access to quality English education. However, there will always be a strong need for English teachers in Chile, as many current workers lack the necessary English skills to further their careers.
5. In your opinion, what's the best part about working for the English Opens Doors Program?
Hands down, the best part is the people! First off, I am lucky to have passionate and hardworking coworkers, who devote so much energy to the Program.
Also, I always look forward to getting to know the volunteers. They are a talented and motivated group of people who give me constant inspiration to work even harder.
Finally, I love hearing from the Chilean students themselves. The best part of my job is reading literally thousands of surveys from students talking about having a volunteer in their classroom and the results are overwhelming. Students are so much more motivated to learn English and gain lots of confidence in speaking the language as well. The volunteers also become role models to the students and better their lives even outside of the English classroom.