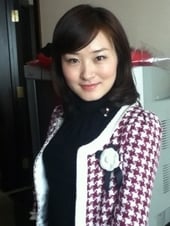 What language have you always wanted to learn and why?
Lijuan: I like Spanish and French and if there was an opportunity to take up classes I would. As a Mandarin language instructor working with some of Go Abroad China's language clients, some of the students (apart from the ones coming from the UK or USA) come from other foreign backgrounds and I have enjoyed close friendship with those coming from South America; that's the reason I'm curious about Spanish. But actually, as someone with a career in language, I'm always interested to hear foreign languages especially from my students.
Describe a time when you felt especially proud to be part of the Go Abroad China team
Lijuan: Since I am more involved in Mandarin language teaching, my favorite moments are always when our participants see the improvement that they were hoping for when they signed with us for language classes. In particular, students who study to the point where they are ready to take the HSK exam, which is a measure of their acquired Chinese proficiency. It is even better when they actually get awarded the HSK certificate because it proves our hard work, as well as the student's of course.
What was your favorite traveling experience?
Lijuan: Being originally from Beijing, I am always happy when I get an opportunity to leave the city for a bit. A lot of my travel experiences are about southern and central China. China is a vast country, with practices that change depending on which province you visit. Southern China is definitely one of my favorite parts of the country; I love trying all the different kinds of food unique to different cities, the weather is generally much more pleasant than in Beijing and a lot of the minority groups are still located in the southern provinces. When you go to the remote areas, you can find interesting merchandise/pieces produced by these minority groups that is not available anywhere else. Plus this region is really good for photography!
What about the future of the industry? How do you think study abroad and international education will change over the next 10 years?
Lijuan: Ten years from now, I think we will still have study abroad industry and international education. I think however, more emphasis can be placed on exactly how to make someone's experience abroad more purposeful. I hope to see even more and better cooperation between universities and go abroad facilitators. I am sure university graduates entering the job market are aware of how competitive it is, but having experiences abroad will actually influence you to widen your search, sometimes graduates might not even need to go search for employment in traditional ways.
Secondly, as the world becomes more and more connected, going abroad hopefully will not just be about who can afford to travel overseas but more of way to bridge connections even better than we are doing right now. Universities and colleges perhaps can include this in their curriculum, or have financial provisions to support an international experience.