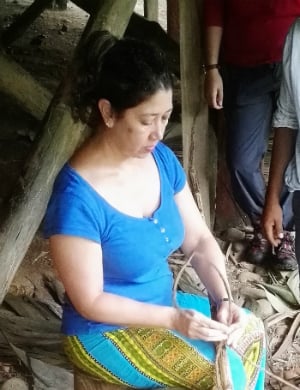 Did YOU intern abroad?! If so, where and what inspired you to go?
Roxana: Well, I did volunteering in the UK. After working in a bank for 14 years, a very professional and successful career, with travel days & economic stability -- I realized that I was not happy with what I had achieved. I was not satisfied. And, deepening a little more, I realized that what I had done was for the imposition of society, the family, to follow and fulfill roles and social patterns. Therefore, I decided to make a stop along the way and reconnect with myself and find my happiness.
What country have you always wanted to visit?
Roxana: I want to visit as many countries as possible, as this is a way to see the world in a more realistic way and get first-hand experience.
Live and share with local people -- know their culture, their lives and learn from them. That's very important to me.
Why is language learning and cultural immersion important to you?
Roxana: These two things are the best way to get to know the people, the new culture, to understand heritage better. The more you know about others, the more you know about yourself and more tolerant you will become.
How have you changed/grown since working for your current company?
Roxana: I changed a lot in many ways. When I work with students and in community service, I have to face incidentals and situations that have to be solved immediately, so I have to develop creativity, intuition and common sense. Furthermore, while I am meeting and interacting with other people, I am knowing more myself. This is a continuous learning.
What was your favorite traveling experience?
Roxana: I do not have a favorite one, all of them have been amazing. Since I started been a volunteer in Europe, then in Costa Rica, and know with the special programs that ICADS have in the communities.
What unique qualities does your company possess?
Roxana: This Institute is different from the rest because ICADS focus on human rights, women and children rights, community service and biodiversity.
Students here have the opportunity of growing and learn so much. They contribute to the community in some way. ICADS is so much more than just a language institute.
Describe a time when you felt especially proud to be part of the ICADS team.
Roxana: I am extremely satisfied when students are proud of their accomplishments, when they learn things, when they become more mature at the end of the program. My hope is to see that our work bares fruit and that we are contributing to a change in our society through our students.