What position do you hold at NOLS and why do you like working there?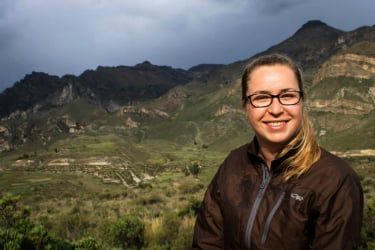 Ashley: I currently work as an Operations Assistant with NOLS Professional Training, the division of NOLS that creates custom courses for organizations like Google and NASA.
I like working with NOLS Pro because we can shape our courses specifically around our clients' goals and our students' needs. It's a busy, creative and energetic environment and I love that this crew works hard but also makes time for lunch-hour yoga or post-work rock climbing.
What is one thing you would tell any future gapper?
Ashley:Take the time to shape your gap year around the things you are passionate about and what will serve you as you go forward. That might be learning a new language, developing leadership skills, volunteering or getting a wider global perspective.
Don't sign up for something because it's what your friends are doing or because it will provide the best profile pic - take this unique opportunity to really pursue what fascinates you and get clarity on your life goals.
What do you find most fulfilling about your interactions with gappers?
Ashley: I love working with gappers because folks who choose to take a gap year are intentionally choosing to step away from the norm, hit the pause button, and challenge themselves.
Taking a gap year can feel scary or rebellious—especially if your friends and family are not on board—but facing that fear creates some incredible people. Gappers are great because they are constantly asking questions and looking for opportunities to learn and make the most out of their experiences.
What would you tell a parent who's reluctant to send their kid abroad?
Ashley: Going abroad can be one of the best opportunities for a young person to experience personal growth, gain cultural competency, use critical thinking, and learn practical risk management. These skills and experiences can set students up for success in college and beyond. It sets a foundation of personal responsibility, competency, and independence that many college freshmen simply don't have coming straight out of high school.
It may feel risky to allow your child to step off the academic train and explore the world, but their college experience will be so much more valuable if, through their gap experience, they have clarified what they want to study and they have gained more maturity and appreciation for the gift of their education.
What is one common misconception about taking a gap year?
Ashley: I think a misconception about students taking a gap year is that they aren't serious about school and just want an excuse to travel and party.
For a few individuals this might be true, but I'd say they are the exceptions. In my experience you get out of your gap year what you put into it—it all depends on your motivation. The vast majority of gappers are awesome soul-seekers looking to explore, learn and make a difference in the world.