What position do you hold at NOLS and why do you like working there?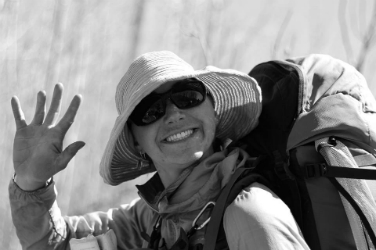 Thea: I currently work as an Account Manager with NOLS Professional Training, the department of NOLS that develops customized trainings and expeditions. I am also a senior field instructor with NOLS and a wilderness medicine instructor with NOLS Wilderness Medicine Institute.
I love working at NOLS because no other job is as rewarding. I get to travel through beautiful places and teach important life skills. The learning and growth that occur on expeditions is unparalleled and I love facilitating this transformation for students.
How does your organization differ from other ones in the industry?
Thea:The leadership curriculum at NOLS is what sets it apart. Students develop invaluable skills in planning, decision-making, and communication. They learn how to live and work well as part of a team. They learn about themselves and how to push themselves beyond what they thought possible and learn how to better face adversity and uncertainty.
Through opportunity to practice with real consequences and time for reflection, students finish their courses with greater self-awareness and improved ability to lead and work with others.
How does going on a gap year with NOLS prepare young people for college?
Thea: A gap year with NOLS teaches young people to be organized, prepared, and self-driven. All of these attributes are important for managing multiple priorities and the coursework of several classes while in college. Additionally, students develop communication skills as they work as part of a team.
This is important not only for having roommates, but also for working with classmates or lab partners on projects. Nearly every skill learned or practiced at NOLS translates to college. Most importantly, young people develop confidence in themselves and their ability to learn new skills.
What is one common misconception about taking a gap year?
Thea:I have heard students say that their parents are concerned that they will not go back to college if they take a gap year, thinking that they will become less focused and driven.
In my experience, this could not be further from the truth! I have found that students become far more engaged in the world and discover passions, or potential topics for study, through their gap year experience. A gap year abroad empowers students with a greater sense of self and a greater sense of agency in their lives, so they return home with a vision for their future and the desire to put it into action.