Did YOU study abroad?! If so, where and what inspired you to go?
Anna: I lived abroad for a year after finishing my undergraduate degree, teaching English in a high school in the southeast of France.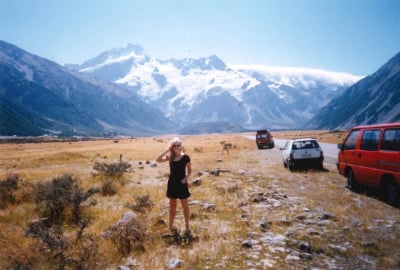 It was terrifying and exhilarating at the same time – having never traveled further afield than Australia prior to that, I'd managed to choose a destination about as far away from New Zealand as it was possible to get!
I remember arriving in Paris and wondering what I'd let myself in for, having lost my luggage en route, getting myself totally lost and eventually catching a ride into Paris in a huge truck with a driver who spoke no English but loved the All Blacks (the NZ rugby team) – not exactly the most glamorous arrival in Paris!
I was lucky to have the most fantastic French flatmate, who introduced me to her family, to French slang and to some amazing French food. My time abroad truly changed my life, taught me to embrace new experiences and made me passionate about travel and education abroad. For anyone thinking about studying abroad, I can only say it was a defining experience in my life and I absolutely encourage you to go for it!
What does the future hold for University of Canterbury - any exciting new programs to share?
Anna: UC's experiential learning program is really popular and it's exciting to see this continuing to grow! We're very keen for our students to maximize their Study Abroad semester with opportunities to get beyond the classroom, really engage with the New Zealand community and gain some real world experience for their future career while studying abroad.
So in addition to a huge range of subject areas, students can also choose from for-credit courses such as CHCH 101 (a community engagement and service learning course) and PACE 295 (an internship course offering work experience with a New Zealand business or community organization).
UC also has the most extensive network of field stations in New Zealand, and many of our science courses offer the chance to get out and do field work in the South Island, which is truly one of the most spectacular natural environments in the world. There are plenty of opportunities to get hands on!
What is the best story you've heard from a return student?​
Anna: One of our Study Abroad students from the US took our service learning and community engagement course, CHCH 101, as one of her courses while studying at Canterbury. On her return home to the US, her home town was struck by an EF4 tornado. She drew on the skills she had learned in her UC class to organize a campaign to mobilize relief supplies and fund raise for her community.
Her efforts were very successful and as a result she was invited back to Christchurch the following year to speak at a community engagement summit. It was fantastic to see her put into practice the skills she had learned while studying abroad and to hear her talking about what a difference the course had made to her life, and how it had empowered her to be proactive in her response.
What does your home-country's culture​ value that is taught in your program?
Anna: New Zealand has a culture like no other in the world, encompassing the rich indigenous Maori culture, and the many heritages of the peoples who've followed them . UC reflects the uniqueness and diversity of New Zealand culture with a huge range of courses with unique New Zealand content, from courses in New Zealand literature, history, politics, art and culture through to the study of Maori culture and language.
Courses in areas such as biology, geology and environmental sciences also study New Zealand's unique flora and fauna, geology, biodiversity and marine life. There's something with a New Zealand flavor to suit most interests, and it's great if students can include some of these courses in their semester abroad, to really get a taste of the unique Kiwi experience!