What position do you hold at SII? What has been your career path so far?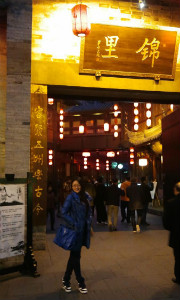 Lily: I became part of SII several months ago. I started with secretarial tasks and then became the operations manager. I deal with customer application processes, sustaining good relationships with partner companies and doing online advertisements.
What does the future hold for SII - any exciting new programs to share?
Lily: As far as I am concerned, SII will be bigger and stronger in the future. It used to be a small startup without an office but now, there are far more customers and cooperating companies all over Asia coming to us. Our new hospitality program in Thailand is becoming better known by more people from all over the world which is very exciting for us.
What about the future of the industry? How do you think study or intern abroad and international education will change over the next 10 years.
Lily: I have never thought before that there is such a promising industry with exciting opportunity and not many competitors. The industry is just starting out and will only go up in the next 10 years.
During the last decades, the Chinese always went to other countries to study, but didn't have the option to stay to further their internship or get a job. That is where our opportunities lay.
On the other hand, more and more people from Europe and the States have become interested in Chinese culture and business. It is time to tell the world that China is very worthwhile to experience both in the ways of study or internships.
Which study or intern abroad destination is most underrated? Conversely, which is most overrated?
Lily: Asian countries are absolutely underrated for those who want to study or intern abroad because those countries are seen as developing countries.
However, there is a lot of opportunities and power in the process of development. Conversely, America is overrated by Chinese students. They spend millions studying there, but are still unable to speak English properly.
What do you believe to be the biggest factor in being a successful company?
Lily: In my mind, the biggest factor in being a successful company is its' strong belief with strong actions. That is to say, there must be a belief that we are doing something great.
It could be great for a group of people, like the students. It could also be great for an industry, making the whole thing more professional and better. Not only does it need strong beliefs though, it also needs confident action towards its goals.
What's your favorite ethnic dish? (needs to be ethnic, something that is NOT Chinese)
Lily: My favorite dish is in my hometown-China. It is known for the spicy food which is tasty and healthy for locals. As it is very humid in Sichuan, we need take in spicy food to get rid of humidity inside us.
On top of that, we cook different food with various flavors so that everyone could be cook here.
Why is language learning and cultural immersion important to you?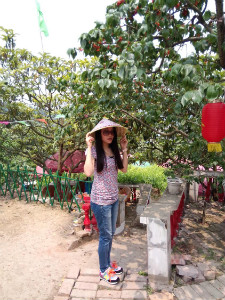 Lily: Language is the tool to pull down the wall between people from different places. As long as we can understand what you are expressing, we know what you want and like.
We can only have understanding when we are able to speak and express our ideas and find understanding. Language is the bridge, allowing us to become closer.
How have you changed/grown since working for your current company?
Lily: A lot has changed within me since working for SII. I used to have a stable job and cozy life which is very slow.
Then I wanted change in my life in order to fulfill my ambition. I am always running around for SII and feeling that time is so limited.
I have even experienced the "ups and downs" of a business in just the first two months. Besides the quickened pace of life, I have become more professional towards work, striking the balance all the time.
What was your favorite traveling experience?
Lily: My favorite traveling experience was when I was in university. My roommates and I went to another new city, Shenyang, to go on an adventure and check out a different world together.
I distinctly remember that we even defended our rights bravely against a bad store owner. After that, I realized a team makes everything easier.
What language have you always wanted to learn and why​?
Lily: Besides British English accent study, I have always wanted to learn French. France is always the first romantic option for Chinese girls.
If I can speak French, it is easier for me to watch French movies and understand the culture in a different way. Also, there are French workers in our company, which is a good excuse to pick it up.
What unique qualities does your company possess?
Lily: The unique quality in our company is the cultural immersion. We are all from different countries that posses different cultures. It is not uncommon that we misunderstand each other or get confused with each other's behavior.
However, we learn how to adjust to each other by communication again and again. That is the unique quality in an international and promising company.
What changes would you make to the study or intern abroad industry?
Lily: My goal is to make the study and intern abroad industry more professional and interesting. Instead of sending people to a foreign country only, we need to make sure everything goes well with him or her while they are there.
For example, we would give survival class to get rid of the language barrier or 24 hours support. The most important point is make sure they do benefit from this experience academically and practically and would like to tell more people.
Describe a time when you felt especially proud to be part of the SII team.
Lily: There are many times when I felt proud to be part of SII. For example, one of our interns told us that she really appreciated that we brought her to China, because she got a very good opportunity for her career after her internship.
Another would be when an intern expressed strongly that she wanted to live in China forever. I can feel that all of them really enjoy what they are doing and how we are a help to them. That is the meaning of life and work. Help others, help yourself.
What is the best story you've heard from a return student?​
Lily: The best story is from one of our interns who did an internship in our cooperating hotel. Then she got the full time job from the hotel, and was highly spoken of by the hotel manager.
That is not only a pleasure to the intern, but also to SII – doing something different from other companies and something great to the industry.
What does your home country's culture​ value that is taught in your program?
Lily: "Help others, help yourself" is one of my home country's value and it shows a lot in our program. Since there are many young adults from foreign countries, it is always difficult for them to communicate and live here.
However, we encourage them to believe locals and try to talk to them even with body language because people here are willing to help them. We believe that it will be reciprocated someday.