What country have you always wanted to visit?
I have always wanted to visit countries that have long traditions but with distinctive culture and lifestyle different from my home in China.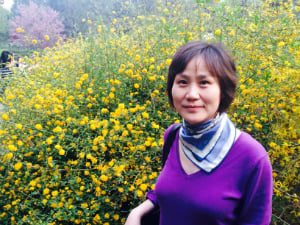 I am particularly interested in the EU countries, their histories, their vast and varying geography and demography, ongoing changes and complexities triggered by interactions of global and local forces, as well as the efforts by individual countries like Spain to reinvigorate itself in the new world economy.
Why is language learning and cultural immersion important to you?
Language skills and culture competence are critical in preparing students to successfully live and work in a globalized, fast changing and increasingly sophisticated world.
As professions and people become more mobile internationally, the language and culture expertise you acquire will set you apart. Moreover, building relationships of trust with locals requires not only vocabulary and grammar but also a broad understanding of the values, patterns and styles of communication used by differing groups of people.
Immersion gives students a chance to practice all of these as do interactions with language partners and living with a Chinese family.
How have you changed/grown since working for your current company?
We are an intellectual community that cherishes diversity, openness, and sharing and mutual support. I am deeply impressed by the professionalism of my colleagues and their heartfelt caring for students.
Our team is inspired and united by the ideals and core values embedded in international education, the belief of positive impacts that study abroad experience on personal growth and development, and the passion for student services.
By working with my colleagues and students, I have learned to master the multi-facets of study abroad and understand the nuances of communication, to appreciate different perspectives more, and to focus on the positive side of things should issues and challenges arise.
What was your favorite traveling experience?
One of the most endearing involved watching students while at a Tibetan Buddhist temple speak with some very young Buddhist monks and share WeChat information with young monks.
Although neither the Tibetan Buddhist monks nor the Alliance students spoke much Mandarin, they used photos and stickers to communicate and share their experiences.
There was a lot of laughter and a lot of inter cultural learning that resulted from this largely non-linguistic interaction.
Describe a time when you felt especially proud to be part of the Alliance team.

I really enjoy hearing about Alliance students keeping close relationships with their Chinese roommates and Chinese friends after the program. One of my favorite stories is of two roommates who both went to the same graduate school in the USA and roomed together there as well.
I feel that this example demonstrates the success of the efforts we put into making connections possible through our program and increasing the possibility of a positive result through our selection and orientation process.
What does your home-country's culture value that is taught in your program?
Chinese tradition emphasizes collectivism, relationships, learning, mutual respect and harmony. These culture values are embodied in ordinary people's daily lives and workplace, which our students experience first-hand when living with Chinese roommates or host families and when interning in local business offices.
In our orientation we introduce students to Chinese culture, and later on through their coursework they deepen their understanding of the dynamics of Chinese society and business practices in light of these long-standing traditions.
Beyond the classroom, our students are challenged to apply their knowledge to enhance their learning process and develop their cross-cultural communication skills in the international yet distinctively Chinese environment of Shanghai.