What country have you always wanted to visit?
I'm not sure if there is a country I haven't wanted to visit! But if I have to choose one, it would definitely be Indonesia. While most people envision the beautiful beaches (which are definitely a bonus), each island offers such complexity and diversity—from mountains and urban centers, to the clear religious influences of Buddhism, Hinduism, and Islam.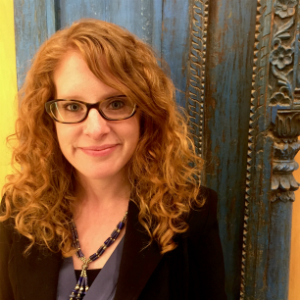 In undergrad, I studied the gamelan (a Javanese or Balinese traditional music ensemble) and various types of Indonesian dance forms so it would be fantastic to see these in Indonesia. I also took a primatology class where I spent a lot of time with orangutans at the zoo, and I would love to visit a conservation center.
Why is language learning and cultural immersion important to you?
In an age where it is so easy to see many places, it becomes even more important to get to know some of those places really well. Dedicating time to learning the language and immersing yourself in the culture provides perspective and promotes a depth of cross-cultural understanding that just cannot be accomplished solely in a classroom.
Showing an interest in learning about someone else's culture or speaking their language will garner respect and help further meaningful relationships in your personal and professional life.
Being able to communicate with cultural awareness is critical to communicating at all in a global context. But it's not all just learning about others. Learning about other cultures also helps you reflect on your own culture and perspectives.
How have you changed/grown since working for your current company?
I've been able to continue to develop my relationship with a country that I've considered a second home—India. That doesn't necessarily come easily. It has pushed me to become a problem-solver and has tried my patience more than once.
It's given me the challenge of trying to explain "Indian Standard Time" and roaming cows to those who are about to embark on their first trip to India. I've learned how to communicate in different ways.
It's opened up friendships with amazing coworkers domestically and abroad. It has made me realize how my personal experiences in India translate into real life skills.
What was your favorite traveling experience?
My first visit to Istanbul, Turkey was the quickest I've ever fallen for a city. It is a city of beautifully complex paradoxes. Yes, it's where Europe meets Asia. It's also a place where two very opposite adjectives—historical and contemporary—equally describe the city.
I would hear covers of pop songs at the same time I heard the call to prayer at the mosque. I saw endless displays of street art and trendy fashion against the backdrop of cobblestone alleys and the Hagia Sophia.
For me, Istanbul was a place that felt so new and exciting, but at the same, as comforting as home. I continuously asked myself what had taken me so long to visit this place!?
Describe a time when you felt especially proud to be part of the Alliance team.
Maybe it's not one specific moment, but each time I watch a student grow through the semester or listen to them reflect on their experience after they have returned home is equally rewarding.
Sometimes it's the student who was second-guessing going abroad but by the end does not want to leave. Other times it's a student that was particularly challenged by their time abroad but months and years later are still talking about how it positively impacted their lives and changed their world view.
I have never talked to a student who did not get something out of this experience, which makes it great to be a part of a team that is working to make it happen.