View Other Details

Program Details

Timeframe

Short Term

Spring Break

Summer

Winter

Year Round

Travel Type

Budget

Family

Solo

Women

Pricing

Price Details

The Basic package includes 4 Weeks of Volunteering. Every project can be extended and has different rates for extension weeks. You will find them at our homepage. Please note: prices may vary slightly due to exchange rate fluctuations!

What's Included

Accommodation

Some Activities

Some Meals

Wifi

What's Not Included

Some Activities

Some Meals

SIM cards

Travel Insurance

Visa
10 travelers are looking at this program
Slovenia is small but very special. It is located between Austria, Hungary, Croatia and Italy. The landscape is a diverse mixture of central european, alpine and mediterranean flair. Vast meadows and valleys, impressive mountain ranges from the Alps and numerous lakes and rivers. Slovenia looks like a fairy tale country.
Especially the historic old town of the capital Ljubljana enchants many visitors with cultural sights like the Ljubljana Castle, the Dragon Bridge, the Prešeren Square and many more. Other cities like Piran, Koper or Isola on the rugged Adriatic coast also impress with a flair of Venetian and Italian influences.
Our RGV charity project in Istria supports the local community with all the tasks that arise. No day is like the other and you will help where it is most needed. There are activities in the areas of social work, e.g. with the homeless, animal care, e.g. in a local animal shelter, helping seniors, working on organic farms and many more.
Program Highlights
Volunteer in Slovenia, the picturesque little fairytale land of Europe with its forests, mountains and lakes
Get individual advice and help with the organization of your entire stay
Accommodation and most of the meals are included
Receive a T-shirt from the project and an internship certificate for your resume
Combine 2 or more projects if you want to try different things and book an optional language course or additional excursions! Get involved in a charity project with very varied tasks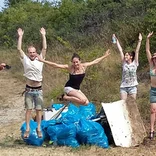 Be our hero and join the multifaceted charity project on Istria on the Adriatic Sea. You will support the local community in every possible way, especially in the areas of sustainable tourism, eco-agriculture and preservation of local nature and cultural heritage.