Why did you pick this program?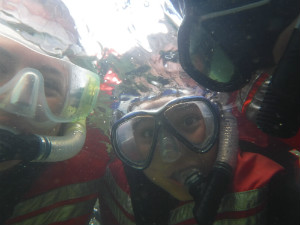 I picked Broadreach because out of all my options it seemed like the most reliable and the summer camp were I could have the most fun as well as learn a great deal.
What do you tell your friends who are thinking about going abroad?
I always tell them to go for it, traveling for me is always an amazing trip!
What was the hardest part about going abroad?
The jet lag I would say, I am used to traveling all around the world, alone or with my family, but directly when I arrived my brain was still in the early AM while I was already in the afternoon and it took about 8 or 9 days for my brain to get on track :)
What's your favorite story to tell about your time abroad?
Probably all our performances we had during kayaking. sometimes when some people were in a down mood, we would all start singing it was very fun we had a lot of high school musical, and I even had a friend who sung opera professionally.
Also making pizza at the research station and all the animals we had the privilege of seeing, including swimming with the bioluminescent krill!
What is one piece of advice you'd give to someone going on your program?
Bring lots of duct tape! I was the only one who brought duct tape and very one really needed it, even my teacher at one point because her bag broke. Also do not shop for camping stuff in Kenya. Throughout the whole trip, I had to make do with a car shield as a camping mat so yes, be prepared.
What made this trip meaningful to you, or how did this trip change your perceptions, future path?
I came on this trip exclusively because I wanted to be sure on what I wanted to study in the future and it gave me that assurance. I now know that I want to be a marine biologist or at least definitely a biologist and it has enlightened me in so many ways.