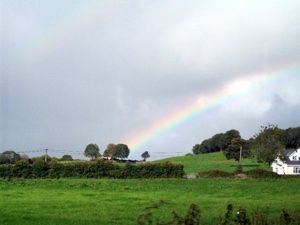 Why did you pick this program?
I have Irish roots and wanted to visit the country where most of my family was from.
What do you tell your friends who are thinking about going abroad?
To just do it!!!!!!! That it's one of the best experiences that they will ever have.
What is one piece of advice you'd give to someone going on your program?
Do your research on food, toiletries and other things that might not be available there. Don't go crazy because you want to immerse yourself in the culture, but if there is something you NEED or will have trouble living without make sure you can buy it there before you leave home without it.
What's your favorite story to tell about your time abroad?
After my friend and I traveled to Poland to visit Auschwitz and Berlin to visit a another friend we were on our way back to Ireland. We flew into Dublin airport because that's where Ryanair flew from Berlin (you'll understand).
We prepaid for a bus ticket from Dublin back to Shannon and were pretty much out of money. Our flight in Berlin got delayed because of engine trouble. Once in the air there was SO much turbulence and about half way through the pilot got on the intercom and said "It doesn't look like we're making it to Dublin tonight".
We almost died and he continued to tell us that there was a "snow hurricane" and all flights were being diverted. We immediately panicked thinking we would end up in London but our fears were calmed when they said we were instead going to Shannon airport. We thought it would be perfect since we were only about 40 minutes away from there, compared to the 4 hour bus trip we would have had to take if we landed where we were supposed to.
When we landed we didn't go straight to a gate. They kept telling us that busses would come and get us and to just hold tight. I got up to go to the bathroom and looked out the door to see about 20 planes ahead of us. A LOT of planes got diverted and we had to wait for everyone else to get off. After sitting on the tarmac for hours it was finally our turn to get off. We got off and then realized that we didn't have enough money for a cab back home and both our phones died.
Our prepaid bus ticket from Dublin was absolutely useless and now we had no way to get home which was really so close. My friend somehow memorized our Irish friend's number and we used somebody's phone to call him and luckily he picked up. Even more lucky he was free and came to pick us up at the airport and we ended up making it home safely and soundly.
What was the hardest thing to get used to?
You need to be REALLY careful crossing the street. You don't realize it but when you cross the street, I guarantee that you first look left, and then right to see if cars are coming.
In Ireland, the cars drive on the opposite side of the road so you need to be extra cautious when you cross, where you're looking and which side of the road cars are turning onto. This sounds silly but something I never thought about until I almost walked when it wasn't safe.
Also, Euros. Try to figure out what the coins mean ASAP or you'll end up like me--with a bag that weighed a hundred pounds filled with about 100€ in coins.