Why did you decide to study abroad with AIFS?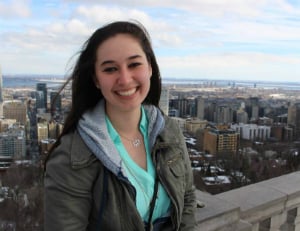 Laura: I chose to study abroad with AIFS because their program was the most inclusive and their program had dates worked best with my schedule. AIFS provides an optional flight plan (both to and from), a meal allowance, prearranged housing, extensive excursions outside of the classroom and a resident director that was on-site. The optional flight plan was a perk for me because AIFS took care of booking my flights and made sure that I had transportation from the airport to meeting the rest of the AIFS students studying abroad.
One of the other main reasons I chose AIFS was the housing. I wanted to get the full study abroad experience and AIFS offered housing in which I would live with a mixture of Irish, American and other study abroad students from around the world.
How has this experience impacted your future?
Laura: Studying abroad has opened opportunities for me professionally, academically and personally. Only 2% of college students study abroad, thus I firmly believe that was extremely helpful in securing my summer internship. I had such an incredible stud abroad experience that when I came back to URI, I began working with AIFS and our Office of International Education to help promote study abroad. While abroad I had to work with students from extremely different backgrounds from my own and this has helped me when I work in group projects at URI. I now have a better understanding of how to work successfully with others. Studying abroad truly changed my perspective on life, school and work. You don't realize how much an effect studying abroad has on you until you come back and you begin to see how much of a positive effect it has had on your life.
What was the best place you visited outside of your study abroad city?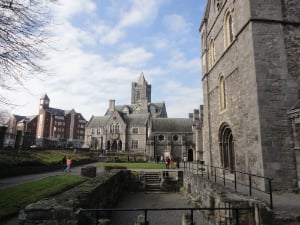 Laura: The best place that I visited outside of Limerick, Ireland was definitely Budapest. I previously been there, but I decided to go back during my spring break. Budapest is an incredible city in Hungry that is separated into the Buda side and the Pest side by the Danube River. The city offers everything from breathtaking monuments such as Hero's Square, the Parliament Building and Castle Hill, the thermal baths and spas in Széchenyi that cave under the city and an incredible nightlife. The city has something for everybody to enjoy and it is one of the most beautiful cities in Europe.
If you could do-over one thing, what would it be?
Laura: I only have one regret about my time spent abroad; and it's that I only went for a single semester and not a year. Though a year seems like a long time to be away from home, I guarantee that your time abroad will go by faster than you imagine. Everyone told me that before I left and I never really believed it, but you get there and then you blink and you're on your flight back home. Almost every person that I know who studied abroad had the same regret; everyone wishes that they could have stayed longer or are wishing that they could go back. It is a once in a lifetime experience to be able to travel around the world while in college and it something that you should do to the upmost.