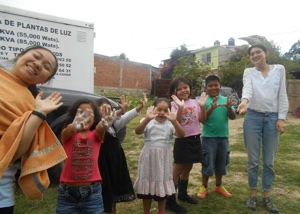 Why did you pick this program?
I really took a liking to the fact that the program focuses on community development through immersion, which is the best way to truly learn a foreign language. I originally signed up for the Costa Rica project, but ended up switching after I had spoken with a staff member who felt my interests in health and education were more in line with the goals of the Oaxaca project.
Go Overseas was also instrumental in my decision because I did not know anyone else who had heard of Amigos. It was a way for me to get a little insight about the organization outside of what the website and employees advertised.
What do you tell your friends who are thinking about going abroad?
Embrace the discomfort of living in a new culture. You will see or hear things that you don't necessarily agree with or enjoy, but will gain a better understanding of how that particular cultural aspect affects the daily lives of the people around you.
I remember that it was a bit alarming to see many children (some as young as the age of seven) who had rotten teeth due to improper dental hygiene. I was even more confused when their parents encouraged them to drink Coca Cola and other sugary drinks. However, my host mother later explained that soda/pop is cheaper to purchase than purified water, which many families try to conserve for cooking purposes.
What is one piece of advice you'd give to someone going on your program?
Represent yourself, Amigos, and your country well. Stereotypes exist everywhere in the world, but this is your opportunity to falsify them. My information packet given to me at the beginning of the summer was right: there is more for you to learn from your community than you can offer it.
What's your favorite story to tell about your time abroad?
Alright, so, I'm a product of a whole lot of Eastern Europeans, and I'm proud of it. However, one thing I've always been self conscious about are my particularly hairy arms.
(I'm not kidding--even if I'm just a little chilly, these babies stick straight up as though I'm Einstein and have just touched one of those machines that send electricity through your body). So, when my host mother decided to start PLAYING with my arm hair, I had no idea how to respond.
It all started when we had been at a community-wide party for the "Guelaguetza," Oaxaca's annual heritage festival. We had just filled up on bowls of pozole and other delectable foods, when my host mom decided it was the perfect time to pick up something she needed from the clinic. However, just as we got up to leave, the everyday afternoon torrential downpour began. I huddled under the canopy, but the rain ended up dripping off the edge where I was standing, so I got soaked anyways.
Once things calmed down, we decided to venture out. I, in my fashionable and conservative skirt shuffled around the cobblestone streets trying to avoid the puddles. Eventually, my host mother, who was also wearing a long skirt grabbed my arm and decided we needed to jump over the puddles together. She's a giant kid-- she kept laughing and singing as we skipped along.
At one point, however, the rain picked up again and we huddled under a random building. My host mom, still holding my hand, looked at me and asked, "Are you cold?" I shook my head yes, so she started rubbing my hands and arms to warm me up. That's when she pointed out my arm hairs were sticking up. When I explained that I didn't like how long they were, she simply replied, "No they're beautiful. I burnt all the hair on my arms off through all my years of tortilla-making."
Whether serious or not, there was no way I could keep a straight face. It was definitely one of those weird cross-cultural moments where you can't help but laugh.
What exactly did you do?
Through immersion, my partners and I were advocates for social change in our community of La Villa de Etla. We worked with local agencies in order to help mobilize resources and jump start the process on a composting system that a local high school had wanted to implement in order to support their class gardens.
Basically, we spent a lot of time brainstorming with students and their teachers, translating information about composting so that both parties understood the process, and contacting a local conservation group to help train students. We also had meetings with community leaders.
In addition, we helped facilitate three-hour workshops (six days a week) that focused on the nutrition of amaranth, a grain native to the area. We had two incredible nutritionists who explained health topics like the food groups, washing hands, and the digestive system to local children, while we supported the women in the kitchen to prepare healthy dishes.
We also taught songs and games to help reiterate the nutritionists' lessons and bring it down to an easier level for some of the younger kids.