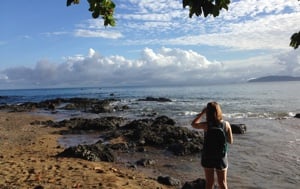 Why did you pick this program?
I picked the IFSA-Butler abroad program because it offered the most variety in courses related to my majors. It also was a partial-direct enroll program which allowed me to have both the structure and support of a program when I needed it, but also gave me a lot of independence and put me in classes with the local students.
I knew being in classes with local students would be difficult because I wouldn't be able to speak in English, however it was an experience I really wanted because I considered it essential to improving my ability to converse in Spanish.
What do you tell your friends who are thinking about going abroad?
100% do it! It was one of the best experiences of my life, and I highly recommend it. There hasn't been a single moment that I regretted it. There is no better way to experience a culture, learn a language, and travel to new places.
What is one piece of advice you'd give to someone going on your program?
My advice would be to take advantage of the trips offered with the program. All of the trips are optional, but they were all to locations that I most likely would not have traveled to otherwise.
For example, on our first program trip we went to a secluded tent camp in Corcovado national park that we had to take a boat to reach. Once there, we hiked and canoed through tropical rainforest, went snorkling over beautiful coral reefs, and went whale-watching where we saw multiple humpback whales. Although all of these things I could have done separately on my own, the location in Corcovado where we stayed was so far off the beaten path that I might not have come across it otherwise.
What's your favorite story to tell about your time abroad?
When I first learned I was accepted into the program, I started looking for ideas of where to go and what to do. I stumbled across this place called Tortuguero National Park where during certain times of the year sea turtles came to nest. About halfway through my program, our program director contacted us and told us there was an opportunity to go and volunteer there with an organization that protected sea turtles. I immediately signed up.
During the days we would explore Tortuguero and see animals such as macaws, caimans, poison dart frogs, and howler monkeys before taking an afternoon nap and preparing for our shifts at night. We'd patrol the beaches between 9 PM - 3 AM looking for any turtles that came to the beach to nest. At the end of our first night out on the beach a huge green sea turtle arrived and nested.
Despite our exhaustion, it was so amazing to see a sea turtle with my own eyes and go through the process of counting the eggs, making sure the mother was healthy, and disguising the nesting spot so poachers couldn't easily find it. I'd never done anything like it before and I wish I could have volunteered for more than just a weekend.
What was it like attending a university in Costa Rica?
It was a great and challenging experience. The culture in Costa Rica is very different than culture in the United States. For example, in the US we're very individualistic and that shows in how nearly all the work we do for school is individual.
However, in Costa Rica there is much more of a focus on group work. We'd reguarly have group essays, group projects, group exams, and group quizzes which would never have been done at my home university.
Despite the fact that my Spanish was far from perfect and at times it was very difficult to express my thoughts to my classmates, the majority were very forgiving and patient as I navigated my way through these processes in a foreign language.