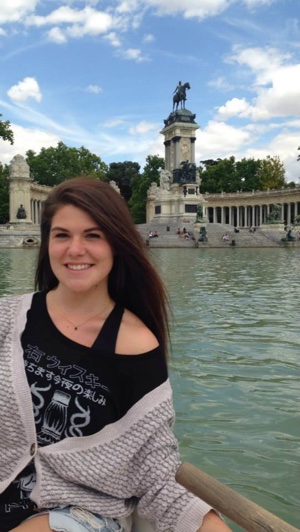 Why did you pick this program?
When Lizzy made the decision to go abroad, she didn't have a specific program in mind. All she knew is that she wanted to study in France, as she was almost fluent in the language.
Because she knew the country she wanted to be in, she began to narrow her search by focusing on the programs offered through Penn State in France. Ultimately, she decided on the program in Aix-en-Provence because it just so happened one of her close friends would be studying there as well.
What do you tell your friends who are thinking about going abroad?
Generally, there are two types of people who consider studying abroad: the ones who are dead set on going, and the ones who are curious and on the fence.
For all the students who aren't completely convinced, Lizzy encouraged them to attend a Study Abroad 101 session, which she occasionally presents, at the very least. That way, one can get all of the basic information that going along with making this decision and move into a more definitive plan from there.
What is one piece of advice you'd give to someone going on your program?
In Lizzy's program specifically, there were no options for housing outside of living with a host family. In Lizzy's case, this worked out very well with few complications, however others didn't have the same experience.
One major piece of advice for this program specifically is that the applicant should be open, honest, and specific about their living preferences and requirements before going abroad as to minimize any miscommunications.
What's your favorite story to tell about your time abroad?
While living in Aix, Lizzy's host mom was situated right next to a nursing home. As she walked to class everyday, she would sometimes see some of the residents out exercising or at a cafe. There was one woman in particular that she saw often, but never spoke with.
When Lizzy and her roommate returned from Spring Break, their last train left them at the terminal at Marseilles at midnight, about 30 minutes away from Aix. With no cabs running and their host mother out of town, they were stuck at the train station with no way home.
Visibly distressed, they were noticed by a woman who approached them inquired where they were headed. The girls responded "Aix-en-Provence," and in broken English, the woman told them that she was here to pick up her mother and drive her to Aix, so she would be happy to give the girls a ride.
As the woman motioned to her mother, Lizzy recognized the elderly woman as one of the residents of the nursing home she lived so close to. Although it wasn't a life changing experience, it was a joy to see the kindhearted nature of people and the fortuitous coincidences that can happen when one least expects it.