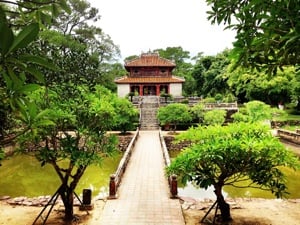 Why did you pick this program?
I wanted to refresh my international perspective and work face-to-face with people in a developing country who are pursuing that greater opportunity by learning the English language. I wanted to make Vietnamese friends and learn about their values and ways of life. I wanted to learn about their dreams and what makes them laugh. Most of all, I wanted to have fun!
What do you tell your friends who are thinking about going abroad?
Our lives flash by faster than you can imagine. I think anyone who is capable should travel to and explore a place totally unlike home. Experiencing new environments can open wonders to your eyes that you might never have imagined. It can make you think about life, and other people, in very new ways—perhaps in ways that could improve your life.
Travelling, and meeting different people, is one thing. Completely immersing yourself in a new culture, adapting its customs, traditions, routines, habits, food, methods of communication and understanding—now that is something truly incredible.
What is one piece of advice you'd give to someone going on your program?
As for general advice, just come with an open mind. Vietnamese people are the friendliest people you'll ever meet, and they will go out of their way to socialize with you and make you feel welcome. You will have a blast during your time here, I am sure of that. Just be ready to try a lot of new things and meet lots of new people. Be prepared to answer lots of questions from students eager to meet you and know more about you!
What's your favorite story to tell about your time abroad?
During my first week, I had gone for a quick meal of pho (noodles) and pork in a gingery soup at one of the many small restaurants near my apartment–where, unbeknownst to me, a student from my morning class had followed me to help me order my meal from the non-English speaking staff!
By now, such a friendly gesture is unsurprising to me. I was pleased to see my student, and invited her to join me for lunch. She remained with me to chat and practice her English, but declined eating with me because she was on, as she put it, a "low carb diet". I had heard something like this many times from friends or family in the states, but apparently this phenomenon has also made its way over here!
What is there to do and see around Vinh?
Vinh city and the Nghe An Province are rapidly growing tourist destinations on the North Central Coast of Vietnam, and are home to various attractions. The city features several unique sites including Song Lam (Light Blue River), Ho Chi Minh Square, Phuong Hoang Trung Do (Phoenix Capital with Quang Trung King Temple), Dung Quyet Mountain with picturesque and breathtaking scenery of the Lam River, Hong Linh Mountain Rank, East Vietnam Sea and all of Vinh City. President Ho Chi Minh's hometown, Kim Lien, is 10 km west of Vinh in Nam Dan district.
Cua Lo beach is 15 km east of the center of the city, it is one of the most beautiful beaches in Viet Nam. There, tourists can see the beauty of outstanding landscapes and enjoy fresh seafood dishes. Tourists can visit Hon Ngu island, the island is 4 km offshore. It consists of 2 islands: the larger stands at 133 m above sea level and the smaller at 88 m. Pù Mát National Park, one of the largest and most well-preserved national parks in Vietnam, is located 120 km west of Vinh. A local tour company offers guided tours of Pu Mat in English or Vietnamese, with the chance to explore Khe Kem Waterfall, Giang River boat trip, Pha Lai Dam, and "Sang Le" Forest.