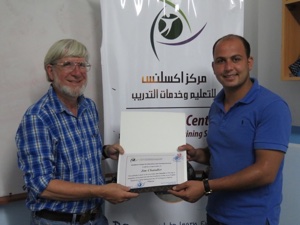 Why did you pick this program?
I chose the Excellence program because they were in Hebron and had an excellent reputation of supporting their volunteers, helping Palestinians help learn English, and teaching Arabic to their volunteers and exposing them to Palestinian culture. The use of international students from all over the world also greatly enhances the English language instruction and makes discussions between the volunteers very enriching.
What do you tell your friends who are thinking about going abroad?
There is nothing more memorable or enriching than traveling abroad. This is especially true when you volunteer or visit friends abroad. When you do this you really learn about the local culture. These are memories you will always cherish and will enhance your understanding of the world.
What is one piece of advice you'd give to someone going on your program?
Learn as much as you can about the program and the country and its culture before you visit. Also try to learn as much of the language you can, especially introductory information and basic greetings. Also while you are abroad, never turn down a chance to go on a field trip, or an invitation of a friend. These experiences greatly increase the learning you can do and the connections with your hosts.
What's your favorite story to tell about your time abroad?
Some of my favorite stories are about the adventures you experience abroad. You never know where your travels will take you. One trip I had with a friend led to riding in a taxi run by his uncle, which also stopped to look at some land for a greenhouse, then an emergency stop to the doctor for his son who fell off a tractor, after which we visited an old Ottoman age dwelling along with 2000 year old cave dwellings, after several glasses of tea I danced at a graduation party, and then arrived back home. Such adventures are not uncommon when you travel abroad.
What was the hardest thing about working in a foreign country?
In preparing for a trip abroad beyond the usual things to bring also do not forget to take an open mind, a sense of adventure, a willingness to share and learn new customs, and a playful spirit. Even though I am in my 60's these items always serve me when I travel.