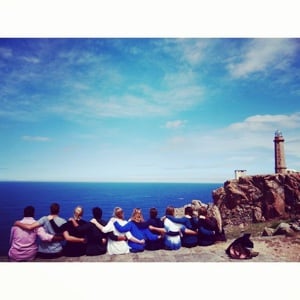 Why did you pick this program?
I chose the Atlantis Project because I knew I wanted to send the summer after my sophomore year gaining clinical experience, but I also wanted to afforded the study abroad experience many pre-medical students aren't able to take advantage of. The summer after my senior year of high school I was lucky enough to travel to Spain for a few weeks and immediately fell in love.
I began researching clinical summer programs that would allow me to both shadow and practice my spanish in a medical setting and when I saw the AP I decided it was going to be perfect. It is a great combination of cultural and medical experiences, and allowed me to gain preliminary research on different health care systems across the world for a public health project.
What do you tell your friends who are thinking about going abroad?
Do it. That is my biggest advice to anyone who is considering going abroad in college. It is the most eye opening experience that allows you to see a part of the world and the people who live there in a way you never would have if you had stayed at home. Going abroad made me grow in ways I didn't know possible and inspired a passion for travel and global health in me.
Everyone I have spoken to gained something personal from their experiences. Study abroad, travel, and immerse yourself in another culture during college. It will help you understand the world and yourself better.
What is one piece of advice you'd give to someone going on your program?
I would tell anyone going abroad with the Atlantis Project to make the most of time you have in the hospital. Ask questions, network, and make connections. It may feel awkward at first, but you will gain so much more if you make an effort to interact with and talk with the physicians. They want to teach you, sometimes you just have to ask a bit more.
What's your favorite story to tell about your time abroad?
While shadowing at CHUAC in A Coruña we were able to attend a Cardio Thoracic Congress on the relatively new Uniportal VATS method of lobectomy with the surgeon who pioneered the method. Some of the best surgeons in the world from many different countries were in attendance to learn more about the method and its benefits.
It was amazing to be invited to study this and see how each day medicine is moving forward. The surgeons were all so nice and willing to teach us. Many of them even joined us later that evening to celebrate one of the fellows birthdays!
If you could do the program again what would you do differently?

I don't know if I would change anything specifically except for stay for a longer time. The Atlantis Project also just opened sites in several new countries including Greece, Argentina and Hungary. If I could do it again, I would probably try and go to Argentina and see how medicine and healthcare differed in South America when compared to Europe and the United States.