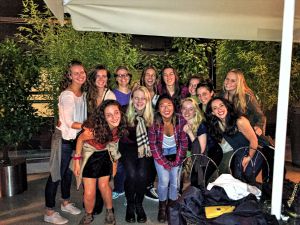 Why did you pick this program?
I picked this program because it had everything that I wanted. An amazing opportunity to study at a prestigious university, a city that was on the small side but not small enough that you don't meet new people everyday and the chance to have a base for even more European travel. The cherry on top was that my close friends were also going to be studying abroad so I would have a chance to travel with them.
What do you tell your friends who are thinking about going abroad?
DO IT! It is truly such a rewarding and incredible experience. Not to mention, it makes you so much more confident in your abilities and forces you to learn really important life lessons, like figuring out trains schedules and going through airport security.
What is one piece of advice you'd give to someone going on your program?
Really make sure to budget your money but also remember that you can make back money but you can never make back memories or experiences. Do as much as you possibly can and try to meet a lot of locals.
What's your favorite story to tell about your time abroad?
How do I even choose? I suppose I'll just talk about my favorite place, the Rodin Museum in Paris. If you don't know, Rodin is a well-known sculptor. He sculpted the thinker, which if you google it you will probably recognize. I fell in love with Rodin when I went to the Musee De Beaux Arts in Montreal and they were having an exhibit revealing some never-before-seen sculptures and models by him. His work is breath-taking and i think it truly captures humanity and the human spirit. Naturally the Rodin Museum was the first place I wanted to go and I was not disappointed. Rodin moves me in a way not many artists have done in the past and it was truly a beautiful experience.
What is the education system like there?
I have had a lot of people ask me about the education system over there, especially since I studied abroad at an actual university. If you're wondering I would highly recommend a direct enrollment program over a regular program. That being said the university I went to was a bit behind on the times with regards to using the internet. Registering for classes did involve a lot of stress and paperwork but in the end everything worked out for the best. The education system itself was extremely different from Americans. Most of the European students I met had known exactly what they wanted to do with their lives since they were about fourteen. Not to mention they all knew at least one other language besides English, which I think is a huge step up on American schooling. I did have quite a lot of free time since classes met only once a week and we didn't really have homework. Plus, many of the professors did not care whether you showed up to lecture, leaving me at times somewhat unmotivated to attend. All in all, it was simply different.