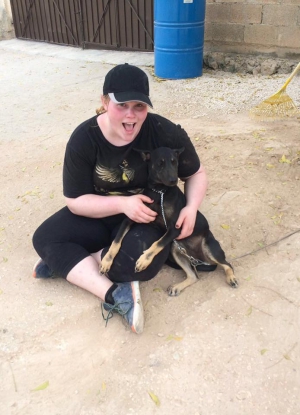 Give us a little intro
Amy is outgoing, passionate, and adventurous. She is always ready for whatever life throws her way, and will always try to make the best out of a bad situation. She is from Inuvik, NWT Canada, and while many people might say "brrr, that's cold", she loves the active culture and uniqueness of her tiny town.
Why did you pick this program?
I picked this program because I love animals, and Mexico seemed like a nice place to start. Because I hadn't traveled alone before, I felt comfortable knowing it was still the same continent, yet a completely different place in comparison to where I'd been before.
What do you tell your friends who are thinking about going abroad?
I always tell them to go for it! I have never ever regretted going on a trip, it has always given me a wonderful outlook on life, and teaches you so many things that you might not even notice.
What is one piece of advice you'd give to someone going on your program?
Enjoy it and make the most of out it. You are working for the animals and although there might be times you don't want to do the task laid out before you, it's important to realize that for these dogs, you are a hero and mean a lot to them as they get to know you.
What's your favorite story to tell about your time abroad?
There are these things called Cenotes in Mexico and I absolutely love them! They're so beautiful and unique. I loved spending time in them and just relaxing and truly realizing what an amazing earth we live on.
What is one thing you gained from this trip?
While working in animal care, there was a lady named Mary working with me. Mary said something to me that made me realize I will always want to incorporate volunteering into my travels: "the small amount of discomfort we go through doing something that isn't super fun, is nothing compared to what some of these animals and people go through every day". Through this experience I learned to never take the simple things that are part of our everyday lives - drinkable tap water, adjustable shower temperatures, air conditioning - for granted.