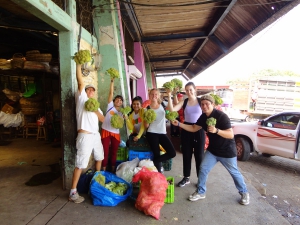 Why did you pick this program?
The concept of Comamos Juntos is sustainable, community-based, and simple. When choosing a program, it was very important for me to stand 100% behind the concept, have the ability to work closely with local civil society, and to have a connection to the topic.
As I was involved in the German non-foodwaste organization "Foodsharing" before, I was delighted to learn about an organization with similar ideas. Through this opportunity, I was able to approach the topic from another perspective, in a totally different context.
It is so logical to save food that would otherwise have been wasted and re-distribute it to communities in need! In addition, since the NGO is still quite small, I was able to get involved in all tasks and to participate in decision making.
What do you tell your friends who are thinking about going abroad?
I say to them: DO IT! It is such a wonderful opportunity to experience everyday life in another country and adjust to new habits, especially when you get the chance to live with local people.
The intercultural exchange is really interesting, because you can learn so much about the different ways that people think. This experience has given me the opportunity to reflect on my own life, as well as the lives of others.
What is one piece of advice you'd give to someone going on your program?
Come full of initiative and motivation. If you are willing to seriously contribute your ideas and time, you can become an integral part of this grassroots organization and you will enrich the development process of Comamos Juntos. Also, bring clothes that you don't mind getting dirty for our Recolecta at the market and our Cocinada in the communities!
What's your favorite story to tell about your time abroad?
I had the most amazing birthday while I was working with Comamos Juntos! Two other interns and I went to cook in one of the communities we were cooperating with, at a primary school called Ananda Marga.
As a surprise, the teachers organized music and I found myself standing in the middle of a circle of 100 kids who sang, applauded, danced and laughed in celebration of my birthday.
The fiesta ended with a huge group hug and very yummy homemade naan bread (accompanying our rescued vegetables and fruit). I was so touched to see all this love and happiness coming from the kids - many of whom come from economically disadvantaged backgrounds.
Definitely a once in a lifetime experience! My day ended with a lot of my Nicaraguan and international friends, who organized another little party for me. Even the birthday cake they had prepared included things from the Recolecta! Gotta love it.
What does a regular work week look like?
A week in Comamos Juntos can be quite diverse. First of all, the members of the office team participate in the Recolecta once a week to collect food that would otherwise be wasted, side by side with our local volunteers. You'll get your hands dirty here!
It's incredible to see how much good stuff can't be sold anymore and how it can be used in communities who really need it. Moreover, we participate in Cocinadas (community cooking events) once a week, where you'll get to know our community leaders (persons of trust who are responsible for the distribution), and a lot of excited kids. This interaction is really valuable to understand the communities' needs.
The rest of the week is spent in the office: working on development and reviewing the efficiency of the organization, networking and meeting with various stakeholders, social media communication, finances, general administration, research, future volunteer communication, fundraising, grant writing... everything there is to do in a NGO! The office team consists of our English founder Katie, her Nicaraguan partner Camila and a couple of temporary international volunteers and interns.
Everyone works together but has their own tasks. I really enjoyed the relaxed but structured atmosphere there. Outside of office hours (9-5), we regularly organized get-togethers with the whole Comamos Juntos team. You can integrate Spanish lessons into your weekly schedule as well, if you need to. All in all: Great ideas, great actions, great vibes!