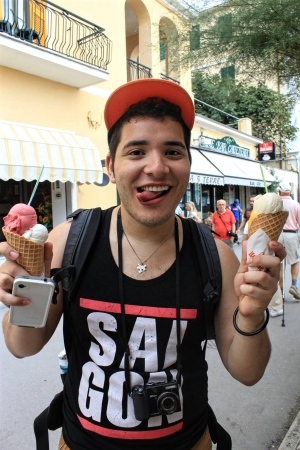 Why did you pick this program?
I chose this program, no, school, because I knew that Middlebury programs provided the cream of the crop when it comes to studying abroad. The language pledge was an amazing tool that helped better my language skills. Plus, Florence was the perfect place for me; it's not as small as Ferrara, and not as big Rome.
What do you tell your friends who are thinking about going abroad?
tell them to go. It was one of the best and most influential periods of my life. Going abroad for an entire year was definitely not a mistake. You learn so much about yourself. Plus, I learned how to cook amazing food!
What is one piece of advice you'd give to someone going on your program?
One piece of advice I would give is to be open to new things. I was vegetarian for 10 years before going abroad. I decided to stop because I needed to experience the new cultures through food, and meat is a large part of the cuisine in Europe. I did not regret my decision. I also hope you like churches!
What's your favorite story to tell about your time abroad?
My favorite story to tell from a crazy night in Barcelona. It is a complicated riveting story that will make you smile, cry, laugh, and ask yourself, "what is this boy thinking?".
The cliff-notes go as follows: my aunt bought a ticket for me to go from Barcelona to the Canary Islands, however I was in Florence. I bought a flight, and arrived in Barcelona at 8 pm. Having forgotten to book a hostel, I went clubbing until 6 AM to stay up to catch my flight the next day.
I went tapas bar hopping, drank too much, but some how still made it to my flight. I'll keep the details to myself, but let's just say it was an incredible way to spend time waiting to catch a flight!
What was the best meal you had while abroad?
That is an impossible question. Any pasta dish with cheese was borderline life-changing. The Moroccan mint tea, and lamb, mint, and couscous tagine combo in Marrakech was also earth-shattering.
The croissants and macaroons in Paris made me weep. However, the tapas bar hopping in Barcelona made me the man I am today. Like I said, impossible.