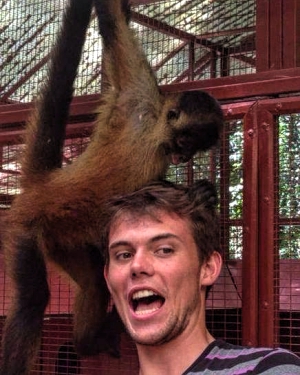 Why did you pick this program?
I picked USAC because it combines affordability with limitless adventure. There was a great balance between fun organized trips and us being allowed to venture and explore independently. I learned so much Spanish through the homestay program and my classes being taught in Spanish.
What do you tell your friends who are thinking about going abroad?
DO IT. It's hard to say yes and much easier to say no, but I have never heard someone say, "man, I wish I didn't study abroad". I have heard the opposite a lot though.
What is one piece of advice you'd give to someone going on your program?
I would say try and develop relationships with locals. Talk to your host family as much as possible and try to develop relationships with others as well so you can get a more authentic cultural experience and pick up the language better if that's important to you.
What's your favorite story to tell about your time abroad?
The time I helped baby sea turtles into the ocean was especially memorable. Me and a great guy I met through the program named Austin were laying in some hammocks watching the sunset on the beach. We saw some locals who had rescued some sea turtle eggs months earlier letting baby sea turtles into the ocean and walked over to watch. We helped pick up and guide the babies that struggled until they were swept off by the waves and into the sunset.
If you could change one thing about the program what would it be?
I would have a more intentional effort to connect students to locals through groups, clubs, social events, etc. I think this would strengthen the cultural experience and student's connection to the country and people as a whole.