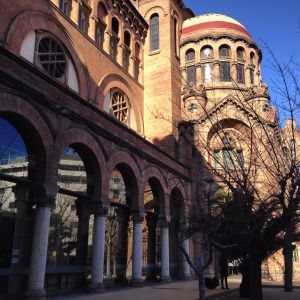 Why did you choose this program?
I chose Barcelona because of its amazing location and diverse landscape; from the beaches to the mountains, its Gothic district, and the views offered by Parc Guell and Tipidabo. When searching for a study abroad program, I knew that I absolutely wanted to go to Barcelona, and everything fell into place after I made that decision.
What did your program provider assist you with, and what did you have to organize on your own?
When choosing from program providers, SAI Programs stood out amongst the rest. I felt so taken care of and that I really mattered to them as a student. Being a smaller program provider allowed them to give me really personalized attention and they were happy to answer any and all of my questions, and quickly might I add. SAI assisted me with almost the entire process except for choosing my classes and transportation to and from my host country. They made it easy for me to know what I needed to get done and how things would work. Another great thing about SAI is their outreach even after my return from studying abroad. They gave me outlets to adapt back into the US, and opportunities like their Ambassador Program to continue my involvement in international education.
What is one piece of advice you'd give to someone going on your program?
I suppose this would be for anyone going abroad, and not only my specific program, but make sure to keep an open mind. Whether you are going to Barcelona, Paris, London, etc., there will be things that will push you out of your comfort zone, but if you keep an open mind, you will enjoy the experience a lot more. Creating a budget spreadsheet for your trip too is always a great resource to reference when spending money.
What does an average day/week look like as a participant of this program?
An "average" week in Barcelona is constantly changing. The only thing that stays consistent is that you will be going to class, but even then, UAB's courses offer a diverse set of experiences and material. I was going on a field trip to a different place every week of my classes. There are always new places to see, festivals to attend, and restaurants to try. You can expect to spend some time on the beach, up in the mountains, and out in the vineyards, all of course with a glass of sangria in your hand.
Going into your experience abroad, what was your biggest fear, and how did you overcome it and/or how did your views on the issue change?
My biggest fear was the language barrier. In my situation, I went to Spain not knowing a lick of Spanish. I had never taken a Spanish language course, and I hadn't enrolled in any Spanish courses while going to school in Spain either. I was a little apprehensive about not being able to communicate efficiently without knowing the native language. Although there were some situations that were difficult, I was able to communicate in other ways, which in turn really improved my critical thinking skills and intercultural communication skills - both of which are valuable for my professional future. After being in Spain for about 2-3 weeks, I began to pick up on some of the language, and was able to communicate simple things like asking for the bathroom, how much an item costs, and certain foods. When you are completely immersed into a new language, it's pretty fascinating how quickly your brain can pick up on new words and language. I really trusted my instincts going into the language barrier problem, and was rewarded with skills that I am so glad I was able to obtain not knowing Spanish.
What is something that was surprising about your program?
I had done some research about the city of Barcelona, but I was absolutely amazed by the architecture. Barcelona was a huge contributor to an art movement called Art Nouveau back in the 1900s, and today is known worldwide for its unusually sculpted buildings. Many of the largest attractions from this period were designed by world famous Antoni Gaudi, who would use unconventional materials such as glass, iron, and stone to make his creations. His style of architecture is unlike any other building I have ever seen and it was incredibly intriguing to learn about these unusual sites.