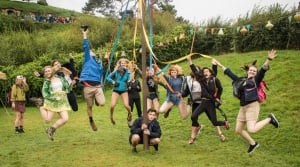 Why did you choose this program?
I chose ISA Study Abroad with assistance from the Global Center for Education at Chapman University. I am very lucky to attend a University that is extremely supportive of their students living and studying abroad, with almost half of our student body taking advantage of these opportunities. I was eager to return to Auckland, New Zealand, a place I visited when I was young, to see it from another perspective as well as to explore New Zealand's rapidly expanding film scene.
What did your program provider assist you with, and what did you have to organize on your own?
I truly cannot praise ISA enough. We were met at the Auckland airport by representatives who showed us around the city before whisking us off to Hobbiton, a massive shooting location for the Lord of the Rings and Hobbit films. All the while, we were given a massive amount of helpful and relevant information before we split off into our respective host cities. My program director in Auckland was easy to contact, very helpful, and organized some incredible trips, including surf lessons, attending an All Blacks rugby match, snorkeling, and volunteering at the Auckland Zoo. I organized trips to Fiji, Australia, and New Zealand's south island on my own, but ISA was always available to provide me with tips and recommendations.
What is one piece of advice you'd give to someone going on your program?
Take advantage of every single opportunity. It is so easy to take a backseat, especially in today's world. Our generation is keen to experience life through social media, but the world is too big and beautiful to sit idly by like that. So many times during my semester abroad I was faced with opportunities that I felt naturally inclined to turn away, but if I hadn't taken a chance and said yes, I would not have directed an original short play, traveled to three different countries in a five-month span, jumped off the Sky Tower, the Auckland Harbor Bridge, or the Nevis Swing, climbed the Sydney Harbor Bridge, attended two live New Zealand television show tapings, learned to speak Maori, or currently have friends on four different continents. Please say yes. It may be the only time in your life that these sorts of experiences arise.
What does an average day/week look like as a participant of this program?
It truly depends on how full you fill your schedule. Personally, I love being a part of many organizations and extracurricular events. Monday through Friday for me would be filled with my classes by day, and in the evening I would attend club meetings, run play rehearsals, or meet up with friends. ISA Auckland ran a different excursion one weekend in every month, so if the weekend wasn't already filled with amazing events they had planned, I would usually take it upon myself to use those days to sightsee, shop, or travel.
Going into your experience abroad, what was your biggest fear, and how did you overcome it and/or how did your views on the issue change?
My biggest fear going abroad was that the distance would change dynamics between family and friends back home. I had no idea how my experiences would change me during this time, and I was concerned that the distance would alter my relationships. While social media is an amazing tool for communication with people back home, after some time I found myself relying less and less on it to stay in touch. There's an old adage that states, "absence makes the heart grow fonder," and I really believe that it's true. Stay in the moment while you're abroad, because the opportunity to do so may not happen again for you. The people you hold dear will definitely still be awaiting your return eagerly despite the distance during your time in another country.
Any advice on what to see and do in New Zealand?
New Zealand is absolutely amazing - some of the most beautiful sights and the kindest people you'll ever encounter! It's a very active country, with a lot of physical activities. I am not a physically-inclined person in the slightest, but I pushed myself to climb, hike, jump, bungee, swing, ride, surf, swim, EVERYTHING! See both the north and the south islands, because they are very different but equally beautiful. Oh, and you simply MUST try L&P soda. It's divine!