Why did you choose this program?
That is the most difficult question about my trip with ISV that can possibly be asked. Why this program? Why not another country? The easiest way to answer is to look at the way I signed up for ISV in the first place.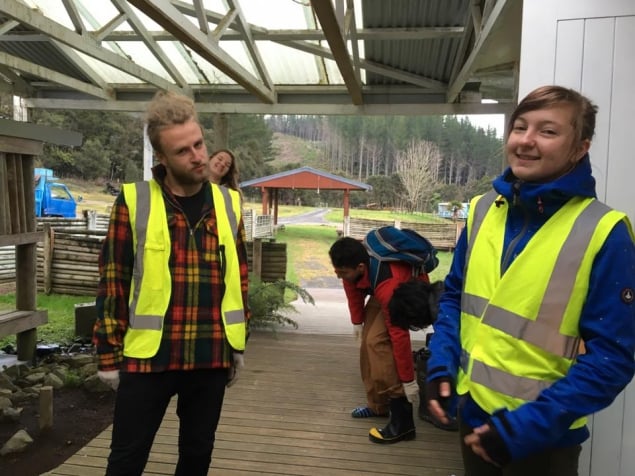 Two student representatives from Sweden and New Zealand (both working for ISV) left some flyers during one of my lectures. I signed up for the meeting that week and got enthusiastic because of the strong story they shared. If we filled out a form to reserve us a place on one of the ISV programs abroad, we had a better chance of getting that spot; online students had to wait for the selection on campus. Luckily I was one of the students that got selected. And I loved every single country and all of the programs came with it.
I made the choice by following what my heart told me was the right thing to do; nature. Conservation work is a thing that might easily be forgotten, especially with the refugee problem within Europe. Moreover, working with children is the one thing most volunteers desire to do. This reduced the selection of countries I could sign up for.
Since New Zealand was the country that was farthest away, I knew I had to go there. After that, I had to make a project preference; but I couldn't decide. At some point you have to let go; it makes the experience even better!
What did your program provider assist you with, and what did you have to organize on your own?
There is plenty of information ISV provides us with, even about the program. For example the work our host family does, where we lived during the first two weeks, and how we lived. We had no signal really (only a few meters beyond the Wharanuie, family home, we stayed at), no heating and no lights all day.
We had to keep ourself warm by wearing layers and staying close to the fireplace (that we had to keep on burning all night). I knew before I left that I had to take my own sleeping bag with me, pillows and mattresses were already there, and that the family place had a generator that (if it worked) woke us up in the morning, turning on the lights.
There are no worries about being left out on information; there might have been some minor things about the volunteer work on the hills, but looking back now, I loved every single bit of it. Even the information I did not have, because it made the trip way more exciting.
What does an average day/week look like as a participant of this program?
You are woken up by the generator around 07:00 am. After one to two minutes the light goes on. Some of your new friends may get up instantly to take a shower or to prepare breakfast and lunch. Don't forget to check the fire. Did someone took care of it all night or do you have to start it again?
Breakfast is ready and after this you pack your lunch/put on the clothes you like to work in or the other way around. Get your backpack ready, put on your newly purchased gumboots, your working gloves and safety vest so you look like one of those road workers. Hop on Big Blue and enjoy your drive towards the working side. After going back and forth on the hill either planting or releasing, it's time for lunch (around 11 'o clock). There is time for one more back and forth row before you leave at 01:00 pm.
You go back to the Wharanuie or might get some firewood. Write in your journal, keep the fire going again, shower, play some (card) games, read a book or talk to you friends about their lives compared to yours. The generator goes back on at 04:00 pm when a few of the group start making dinner. After dinner there is still some time to chat before the generator turns the lights off at 08:00 pm. Don't forget to shower or go to the toilet before that!
Going into your experience abroad, what was your biggest fear, and how did you overcome it and/or how did your views on the issue change?
Because I knew that this experience would make me happier than I have ever been before, my biggest fear was the feeling I was going to have when I had to go back home. I had the best time of my life, I made new friends, met amazing people and eventually I had to leave all that behind.
Working and living like this changed my life. There was no rush, no stress, no fear, no negative feelings about society pushing you down. Going back into every life was definitely my biggest fear after tasting a life that was so free and fun.
Have you done things you would have never done back home if you weren't with ISV?
Yes absolutely. First of all, the tree planting on steep hills. Though I loved every part of it, even when I fell (which believe me, we all do several times a day) and scratched my leg. You don't even notice all of this until you get back and see all the bruises you have. And I was also surprised to find myself doing a lot of the adventure activities. We were one big group that shared so much together, you wouldn't want to be left out of anything. So without thinking you should do as many things as you can.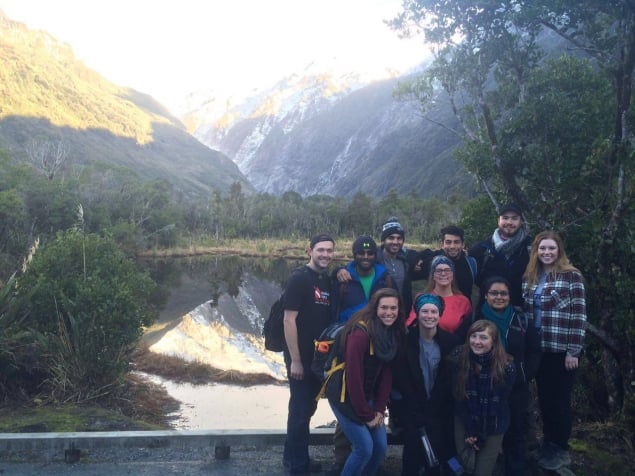 You have this experience maybe once in your life, so go for it! Traveling with ISV also means getting a discount on many activities. Discounts from having your student ID-card with you can add up quickly. Another suggestion is to double up activities like the Nevis Bungy together with a Nevis Swing, for example. It might cost you some money; but you have the choice.
When you buy your lunch at the supermarket, get the budget brand. It tastes just as good as the expensive brands. Find that cheaper souvenir shop and most importantly: buy only the things you really want and need. And do find the local shops. Thinking about responsible tourism really is something I do much better now. I am even putting it to reality way more often after this trip.
What is one piece of advice you'd give to someone going on your program?
Just do it. Don't worry too much about being cold, just make sure you've brought enough layers. Don't think you are not strong enough to plant Manuka trees all morning on the steep hills and rough terrain, because you are.
Listen to your body, take a short rest if you have to but try not to skip days of work. You will get used to the feeling after a few days and looking back you can be so proud of yourself for living a life away from society, from modern technology and the rush of everyday life. You smile because you made it, you made something for the world and by doing so and sharing your story, you can inspire others.