What position do you hold at ISV? What has been your career path so far?
Dear Chonnikan: I am a Volunteer Project Leader for ISV in Thailand.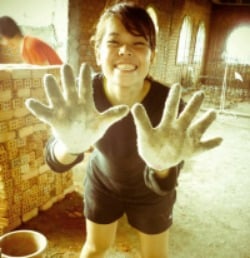 What inspires you most on a daily basis?
Dear Chonnikan: I always do what I love and I do believe in what I do. The most inspiring thing about working for ISV each day is that I know that every move I make will facilitate or help my volunteers (for their self-discovery, for the better understanding about my country), my local people (improving quality of life, the feeling of being accepted) my country and my organization (ISV).
Every day I wake up, I know that we will make things right and do the right thing and that feeling makes me happy. My beloved volunteers travel al long the way from other parts of the world with their big hearts, the locals waiting for them, and I love being a facilitator.
It's amazing to see what strong friendships can be made within 2 weeks, how much the volunteers feel and care for each other, how much all of us have learned about the meaning of life. It's not an ordinary vacation. Afterward,the meaning of life has changed, taking has been replaced by giving and sharing.
For me as a Project Leader, the decision to earn a European masters degree in tourism management is also for the better future of my volunteer work and my country, Thailand.
Did you volunteer abroad? If so, where and what inspired you to go?
Dear Chonnikan: I have never volunteered abroad but I would love to! :D
What should volunteers know about Thailand?
Dear Chonnikan: Thailand has so much to give, so open up your mind. We do have rich natural resources, cultural heritage, great food and friendly people. We also have beaches, mountains, waterfalls, caves, temples, churches, mosques, farm land, city, shopping. And we have a wonderful atmosphere.
Thailand has everything you could ask for to keep you excited and enjoying your vacation.Thai people are incredibly friendly. They will smile at you and help you the best they can.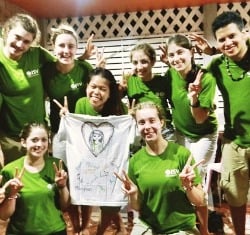 What makes the ISV volunteer programs in Thailand unique and special?
Dear Chonnikan: Volunteering in Thailand with ISV is more that special. More than 95 percent of my former volunteers said that the experiences are beyond their expectation and they definitely will be coming back to Thailand again.
From my perspective as a project leader, our program is an amazing combination between the volunteer project and the adventure tour. Therefore our project often amazes the volunteers by helping them realize how lucky they are to be born in and live such privileged lives
.
Volunteers realize their good fortune, to be able to ask for anything they want - while in other parts of the word there are large numbers of people that rarely even have a chance to ask for. Moreover, knowing that their assistance can realistically benefit the world builds up their energy each day.