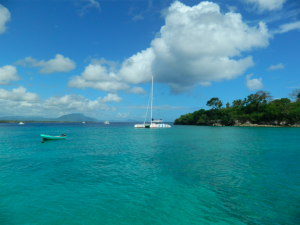 Why did you choose this program?
I choose the 21-Day GLA Dominican Republic: Building a Sustainable World trip because I loved the environmental, health, and leadership factors that the program offered. I've also always have heard about how fun and life-changing these types of service trips are and I wanted to try it for myself.
What did your program provider assist you with, and what did you have to organize on your own?
GLA assisted me with everything, down to transportation to and from the airport. There was nothing that I had to organize for myself besides the documents to travel and the amount of money I wanted to bring for souvenirs.
What is one piece of advice you'd give to someone going on your program?
If I were to give myself advice before going on my trip, or someone who is going to go on the trip, I would definitely want to say that the first couple of days may go slowly. However, once you establish yourself in your program and with the people you are with, the trip goes by pretty fast. Just be open-minded and remember that everyone is in the same boat.
What does an average day/week look like as a participant of this program?
An average day in the Dominican Republic GLA trip was pretty simple: going to breakfast around 7:00 a.m., going to a worksite until after lunch which was at about 2:00 p.m., relaxing at the beach until 4:00 p.m., participating in a cultural activity until 6:00 p.m. - like dancing with locals or making plantain, having dinner until 7:00 p.m., watching a presentation coordinated by the host organization until about 8:00 p.m., meeting with mentor groups until 8:30 p.m., and then going back to your cabin and hanging out until 10:30 p.m.. We took about two excursions each week and there was one overnight excursion to Santo Domingo.
Going into your experience abroad, what was your biggest fear, and how did you overcome it and/or how did your views on the issue change?
Going into my trip, I was nervous to meet new people and establish the same bonds that are stigmatized on these types of trips.
A couple days into my trip, I realized that I was only there for three weeks and it was my job to make the most of it.
Either way you're able to meet amazing people. The bonds may not last forever but the memories will and it never hurts to make more memories.
What was the most memorable part of your trip?
There were so many things that I thought were incredibly memorable on my trip. From the people I met to the service we did, everything struck me as amazing. I don't think I can pick a favorite part because there were so many things that were great.
I loved doing the service that we did because I could tell that it all contributed to a greater good, even if some of it was hard and repetitive. For instance, we probably made around a hundred 90-pound bags of cement to do various projects, like building a basketball court or building a water filter system.
Another thing I loved was learning about the issues that our global community faces and about the effects of human security. There was a very big educational aspect pertaining to this trip and I feel like I was really able to take a lot away from it.