Why did you decide to volunteer abroad with GLA in the Dominican Republic?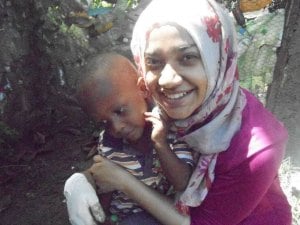 Laiba: For a long time before my trip, I had wanted to volunteer abroad. I knew that I wanted to explore another culture and make an impact on communities away from home.
So, I began researching various organizations that allow high school students to volunteer in communities abroad. During that time, I ran into Global Leadership Adventures. The organization seemed safe and worthwhile.
I looked at many reviews to see how others enjoyed their GLA experience and was convinced that I would have a meaningful experience with them. After being ensured that GLA was the organization that I wanted to go with, I chose their Dominican Republic Beachside Service Adventure for my service trip.
I chose this particular trip because it incorporated many different aspects of service relating to children, social/political issues, public health, and environmental sustainability. I felt that the various aspects of this program gave me exposure to different parts of the nonprofit sector that I could learn a great deal from.
Tell me about one person you met.
Laiba: During a day at service in Ascension, a Haitian Refugee camp in the Dominican Republic, I met a young girl named Narina. After speaking to her for a while, she began to describe how her family had been struggling to buy her little brother shoes and asked me if I'd be willing to purchase some homemade bracelets from her mother to make that possible.
I noticed tears start to surface in her eyes when she said that. I immediately gave her a hug and promised her that I would. Seeing her cry made me realize that I took so many blessings, like the ability to buy shoes, for granted.
Even though my hug and promise to her were small gestures, she smiled and thanked me. Witnessing how easily I could alleviate someone's pain only strengthened my drive to help others. That memory often reminds me why I love helping others.
What was the best moment of the entire trip?
Laiba: The best moment of my trip was visiting Ascension, a Haitian Refugee Camp in the Dominican Republic. When I first arrived to the Haitian Refugee Camp of Villa Ascension, I noticed it was the most impoverished service site I had seen.
My advisors in the Dominican Republic explained to my volunteer group and I the night before that due to immense social issues between Haiti and the Dominican Republic, these Haitians were looked upon by Dominican society as unworthy outcasts.
Almost immediately after arriving, clearly malnourished children with ripped clothing grabbed our hands and welcomed us. They gave us a small tour of the camp, where we saw the broken, cramped places where these children lived.
During this time, my heart felt like it had dropped into my stomach. I couldn't comprehend how individuals lived in such horrible conditions. However, something that remained an absolute mystery to me was the fact that despite these conditions, each member of this community still had a smile on his/her face. I will always remember that moment.
Do you feel like you made a significant impact on the local community? Why or why not?
Laiba: Reflecting back on my GLA experience, I've come to realize that my individual efforts were only a small favor for a few members of the impoverished in the Dominican Republic.
However, the work that my volunteer group and I had completed together, such as helping build a school and helping a village create new routes for a river so that water could be accessed in various parts of the village, were projects that would serve a great purpose and solve many problems in these communities. In that sense, I felt that as a group, we made a positive impact on the communities we worked with.
However, the real beauty of out service trip does not lie with what we did for them, rather it lies with what they have done for us in exchange for our help. Members of these impoverished communities provided us with the greatest gifts that we could ever ask for: awareness, empathy, and a drive to make a difference.
How has this experience impacted your future?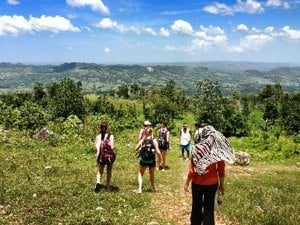 Laiba: From my experience in the Dominican Republic, I learned that I am very passionate about volunteer work abroad.
After seeing impoverished individuals dealing with health issues that could easily be solved in the United States, I learned that my passion lies with public health. In the future, I hope to become a public health physician that works to provide medical humanitarian aid to impoverished communities abroad.
Once I discovered my passion in the Dominican Republic, I became involved with an organization known as Helping Humanity. Helping Humanity is a student led organization that consists of alumni from GLA programs in the Dominican Republic who are inspired to change the world.
Our goals with Helping Humanity include providing access to healthcare to impoverished communities in the Dominican Republic. Our first project was to build a clinic in the Haitian Refugee Camp of Ascension that should be completed by the fall of 2014.
As a group, we attribute our inspiration and successes to our GLA program in the Dominican Republic and our mentors, Cameron and Dave Addison who work as directors for GLA in the Dominican Republic.