Why did you choose this program?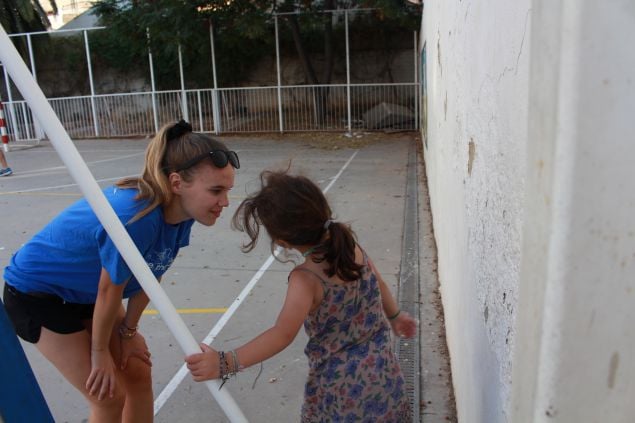 I had been wanting to see Spain for a while, and even applied to a year abroad experience in Zaragoza, but when that didn't work out, I looked at programs for the summer. This one stood out with its heavy focus on community service, but also on experiencing the culture and traditions of Spain. It turned out to be exactly what I needed!
What did your program provider assist you with, and what did you have to organize on your own?
GLA is great at finding just the right people to lead a trip, and one of their main focuses is keeping everyone safe. They don't just talk about it; they truly keep their word. I felt safe throughout all three weeks, but not in a way that kept me from experiencing Spanish culture. I did have to organize my packing, my flights, etc. but that is to be expected.
What is one piece of advice you'd give to someone going on your program?
Be open to doing all the activities, even if you're tired after siesta or not feeling like participating. Not letting your fear get in the way of doing awesome things on this program definitely, without a doubt, pays off.
What does an average day/week look like as a participant of this program?
Monday to Friday, we woke up around 6:30 so we could get ready before breakfast at 7. Breakfast was usually toast, cereal, etc. set up by the hosts of the hostel. I can't remember all that well, but we usually left around 8 to get to the school at 8:30. The kids arrived around 9, we'd play some morning games with them, and then we'd have 30 minutes of English class with them. We separated them by age, and rotated around the classes.
Then there'd be a daily activity around the theme of the week, and then we'd get all the kids to wash their hands for lunch. When all the kids had washed their hands, we were good to leave. We'd get back to the hostel, eat lunch at around 2, and after lunch we'd head up for siesta. Usually we'd have to be back down in the hostel lobby at 5:30, but on a good day, maybe 6. Then we'd head to whatever activity we had planned for the evening.
We'd get back, have dinner around 9, then take our showers, get ready for bed and go to sleep. On two out of the three weekends we had there, we went to Granada and Barcelona. We had one full day in each city, so those schedules were usually jam packed. Our weekend at home in Valencia was a lot more relaxed and possibly my favorite weekend of them all. Our local director found 4 local concerts and we went to all of them on the Saturday night. A lot of what we did was decided among the group with the local director and main leader. They really took into account what we wanted to do as well as what they thought would be fun for us to do.
Going into your experience abroad, what was your biggest fear, and how did you overcome it and/or how did your views on the issue change?
I was afraid that even though I'd had five years of Spanish in school, I wouldn't be able to communicate with the kids very well. It turned out to be easier than I thought, and I learned a couple new key phrases. Overall, I'd use the same phrases and verbs, etc. when talking with the kids, so I didn't need to have an expansive vocabulary. Make sure to know "Ven aqui"(Come here), "Silencio por favor," and "Que pasó"(what happened). I used "que pasó" quite a lot, especially with the very little girls, who were prone to cry at the littlest things.
Is this program like other typical summer programs?
I've been on other summer programs that stress safety, etc. and there's always been that problem where they focus so much on keeping you safe that you don't have as much fun as you could have (for good reason, sometimes). I can guarantee you that this program is not at all like that. There was no time that I didn't feel safe, but I still had the time of my life.
I'll never forget the night that we went to four concerts in a row. We were with our local director so we were completely safe, but we had an amazing time. We were typically the only ones dancing, but the amount of odd looks we got alone made it all worth it.
If you're worried that you won't get a unique experience out of this trip, definitely don't.
I was on the second trip this summer, and from what I heard, the first trip's group had a very different experience than we did. That doesn't make it better or worse, but every group and every person will have a different view on the trip.