Why did you choose this program?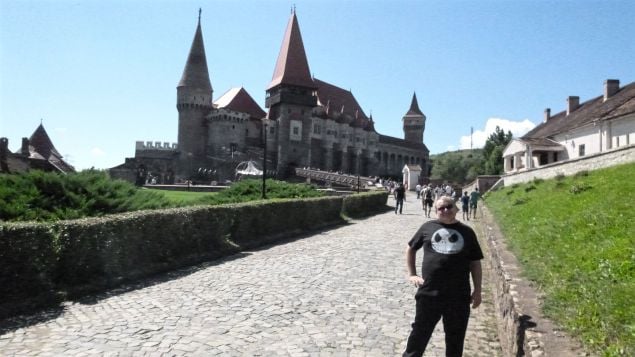 I developed my relationship with Projects Abroad back in 2012 when I signed up to teach English in Fiji. I have always loved the variety of destinations in Projects Abroad, and with this particular company, you really feel like a local.
I had been in love with Romanian culture for a long time, especially the music of Nicolae Bretan. When I found that Projects Abroad had a drama project in Romania (an area that matches somewhat with my degree in media production), I simply had to enlist.
What did your program provider assist you with, and what did you have to organize on your own?
Projects Abroad takes care of arranging your volunteering placement and accommodations (in the case of Romania, and every other destination I've been to, that means a host family). During the weekends, you have free time to explore and travel throughout the country. I myself went to the Hungarian-influenced town of Cluj, and was captivated by the architecture and culture.
The volunteer is responsible for paying for independent travel, as well as the flights/arrival to the country (Projects Abroad staff will take you from an airport, train station, or pre-arranged meeting location as part of your fee).
In Projects Abroad Romania, the cost of transport to the placement was included in the fee, but this was the first time that I have had that happen. In all of my previous experiences, I was responsible for paying transportation costs (which, mind you, amounted to a total of less than US$5.00).
What is one piece of advice you'd give to someone going on your program?
Far too often, westerners tend to think of eastern Europe as violent, unstable, and downright dangerous. This is a total myth.
The Balkans offer some fascinating art and culture, friendly and passionate people, and a crime rate that is much lower than in my own city in America.
The only major difference between eastern and western Europe is the cost: the east provides all of the same levels of comfort and service, but at a fraction of the price.
What does an average day/week look like as a participant of this program?
Having been on several other Projects Abroad trips, the basic routine doesn't change much from country to country. The major differences occur in matters of transport, how the placements are managed, and what is expected of you.
The basic day starts with a breakfast that the host family provides (usually, they have the materials out and you can create the meal as you see fit). After breakfast, it's time to head to the placement. In Romania, this means taking the bus, but in Morocco, it meant taking the tram, and in other destinations, it is perfectly reasonable to walk.
After placement, it's time for lunch, and this ultimately depends on the placement and the local culture. In Bolivia and Morocco, you would return home for lunch and then go back for the rest of the day at placement. In Romania, you were typically given bread and materials to make a take away sandwich, or in my case at the foster home, I ate lunch with the children. Lunch is often an integral part of a society's culture, and this is the one thing that seems to change from country to country to a varying degrees.
After placement, you have some time to rest or plan for your placement before dinner, which is provided at the host family. If you decide to go out instead, you are free to do that if you inform the family in advance. After dinner, the volunteers usually grab a dessert at a cafe and hang out. Friday and Saturday nights usually involve night clubs, and in my case, some videos that I really hope are deleted...
Going into your experience abroad, what was your biggest fear, and how did you overcome it and/or how did your views on the issue change?
When I entered the foster home, I was not expecting the age of the children to be as young as they were. I had to completely alter all of my plans, but to be honest, I was okay with that.
I was happy to be friend and role model that they needed. The children didn't need some random foreigner lecturing on character development. They needed someone who listened to them and respected them, and I was certainly honored to do that.
How many vampires did you meet in Romania?:
Contrary to popular belief, Romania is not the living example of the "Twilight" movies. Vald the Impaler did reign in the southern part of Wallachia, not Transylvania, and he did not drink blood or commit the atrocities that the Turks and Germans claimed.
Romania does have incredible Gothic castles, and the Hoia Baciu forest in Cluj, which is reportedly haunted but I did not see anything supernatural (I did see a beautiful forest that crowned an amazing, bustling city).
While Romania may not be the Halloween nation, it is a destination that is absolutely breathtaking and the Romanian people are proud to welcome you the country. It was one of the best trips I have ever taken, and I am crestfallen that it has come to an end.