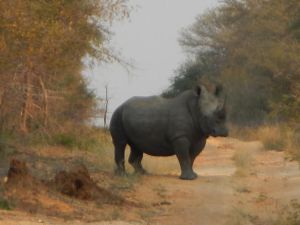 Why did you choose this program?
I usually go overseas on a surfing trip, but wanted to do something different. Also, the plight of wildlife in Africa is important to me. Working at GVI Limpopo allowed me, in a very small way, to help African wildlife.
What did your program provider assist you with, and what did you have to organize on your own?
I made all of my own arrangements, but GVI has a very good instruction packet regarding what to bring, what medical steps are recommended and how to get to Limpopo. ZA.
What is one piece of advice you'd give to someone going on your program?
When booking flights, if from the U.S. to South Africa, avoid extended lay overs. I had a 12 hour lay over in Frankfurt and, as a result, could not check my bags through to South Africa or reserve a seat on the connecting flight until I arrived in Frankfurt. This required rechecking my bag, getting a seat/ticket, and going through security again.
What does an average day/week look like as a participant of this program?
Unless you were scheduled to do base camp support (cleaning and cooking which all volunteers and staff did), you were up for a six o'clock wildlife survey which would last three to four hours. You may have one of three tasks on the survey: vehicle prep, telemetry, or data recording.
Midday was free, or you could take a class on wildlife. You then would go on an afternoon/evening survey from three to seven or eight in the evening.
Going into your experience abroad, what was your biggest fear, and how did you overcome it and/or how did your views on the issue change?
My biggest fear was missing a flight so I built in plenty (too much) time between flights. My view on African wildlife didn't change, but my respect for the Limpopo staff, whom I had not met before, was immense.
What do you do for fun at Limpopo?
During the day there is a volleyball court. There is a pool table, wifi, and a library. There is a happy hour for those over 18 as well. Beer and wine can be bought in town. Staff and volunteers get to go to town once a week.