Why did you choose this program?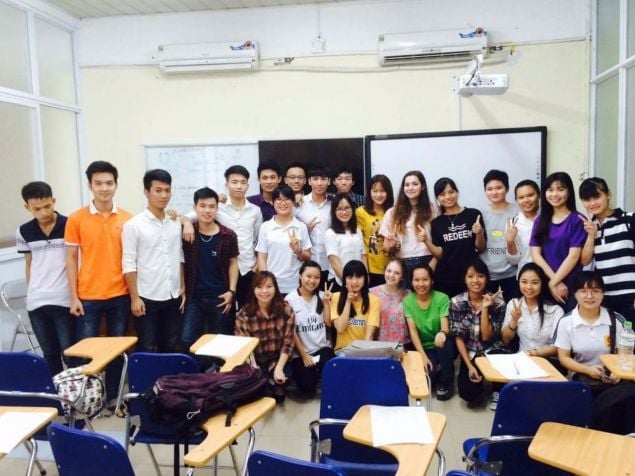 I chose this program because I wanted to spend my last long university summer productively building experience in teaching abroad as this is what I want to do after I graduate.
I'd heard so many things about Vietnam from my friends, the beauty of the beaches, the rich culture, the amazing food, and I decided I had to explore it for myself! I wanted to live, work and relax in a totally new environment and challenge myself with a taster of a new life in Vietnam.
What did your program provider assist you with, and what did you have to organize on your own?
Plan My Gap Year (PMGY) was there to support me with every step of the program, even when I was abroad on the placement. They arranged most things and offered advice on how to sort whatever they couldn't.
Accommodation, in-country placement, and 24/7 support was provided by PMGY but they supported me and explained how I could organize my travel insurance, what I should pack, how to apply for a visa and even offered to find me a flight quote.
What is one piece of advice you'd give to someone going on your program?
If I could offer one piece of advice, it would be not to let fear deter you from stepping out of your comfort zone and trying new things.
As long as you can step off the plane in Ha Noi with an open-mind, flexible and positive attitude, it is going to be an absolutely amazing and life-changing experience for you.
Make the most of every minute there. I understand it can feel like a huge step to leave your home and submerge yourself in a new culture, language and job but it can be totally worth it so long as you don't allow nerves to hold you back. I know it's cliché but it's very true that you'll regret what you never did more than what you do.
What does an average day/week look like as a participant of this program?
The staff I worked with were very flexible and cared for my well-being, saying it was up to me how many hours I would like to work and that if I was finding it too stressful they could reduce my lesson time.
I usually taught classes Monday-Friday for around three to four hours a day in three different locations across the city. I wish I could have taught more because I absolutely loved spending time with the students!
A normal working week would be Monday-Wednesday working at Ha Noi's university of industry helping to proof-read worksheets, record listening exams, write lesson plans and teach classes; Thursdays and Fridays were spent with two different community classes which were really fun conversational lessons involving lots of games.
Going into your experience abroad, what was your biggest fear, and how did you overcome it and/or how did your views on the issue change?
My biggest fear was the language and cultural barriers I might face. I didn't want to feel alienated or lost. However, once I arrived there, I soon realized how friendly the Vietnamese people were, especially my students and co-workers!
A smile and an attempt to say hello in Vietnamese went a long way and people would go out of their way to help me when I was shopping at markets or ordering food. I realized how irrational I'd been; people were proud to share their country's culture with me and were so happy to see that a girl had come all the way from England to willingly learn about their way of life.
Yes, sometimes the language made things difficult and cultural differences were sometimes hard to digest, but making an attempt to engage with these differences and embrace the culture really made it easier.
Would you suggest working as a volunteer to other prospective travelers?
Working as a volunteer as opposed to simply traveling is a far more enriching experience on so many levels. As a volunteer, you'll be living like the locals (it was very rare to see a tourist in the neighborhood I lived in) and this allows you to really become a part of the community and experience Vietnamese way of life rather than just drift through the typical tourist hot-spots.
The locals often recognized and appreciated the work we were doing within their community so we got lots of perks tourists could only dream of! We were told the best restaurants to eat in, the best places to visit, received offers to go on free tours of the city, invitations for lunch, street-food bought for us all the time and even a day out to the cinema!
Being a volunteer helped me to understand Vietnamese culture and make many friends I still keep in touch with and I hope to visit again soon to see them. Vietnam's a truly beautiful country with beautiful people and I wish I could have stayed for longer.