Why did you choose this program?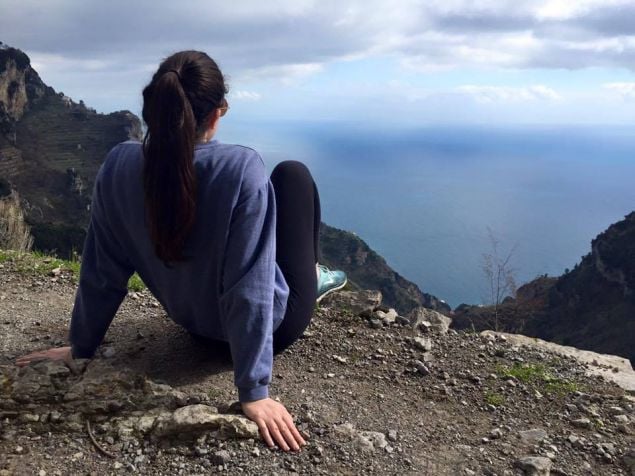 Being half Italian and half Greek, I knew that I was going to decide between one of those two countries. I eventually decided on Italy because it is so rich with culture and diversity that I could spend my entire semester only in that country.
At the end of the day, there were more places on my list to see in Italy than in any other location, and I knew that placing myself right in the middle would give me the best to chance to do and see everything that I had planned.
In deciding on the city within Italy, the process took a little longer. I kept being drawn back to Sorrento every time I looked somewhere else, and just knew that I could not turn down living and learning right on the Amalfi Coast, as well as being presented with the opportunity to intern and take unique, hands-on courses that are not offered anywhere else.
What did your program provider assist you with, and what did you have to organize on your own?
SAI assisted me with resources before, during, and after my semester abroad. Before leaving for the semester, I was able to get to know other students who would be attending Sant'Anna through SAI and even reach out to students who had previously studied there.
SAI was extremely helpful and flexible with my situation. I was in the middle of transferring universities and was able to have some of my deadlines extended. So, whatever your situation is, do not hesitate to reach out to your program provider because they are there to help!
During the semester, we had small and large excursions that were included in our program. Some of the trips included were pizza making, limoncello tasting, and a weekend in Rome that included a tour of the Colosseum and Vatican City.
The only thing that we had to do on our own during the semester was plan our recreational travels. However, the SAI coordinator at Sant'Anna had great advice for places to see and things to do, so we were never completely on our own.
What is one piece of advice you'd give to someone going on your program?
There is only so much that you can do in your time abroad, so make sure that you are making the most of your time, but also that you have enough time and energy to stop and reflect on what is around you.
Appreciate the city that became your new home, make friends with other students and make friends with the locals.
Travel as much as you can and fill up your camera roll every day. But do not forget to reflect on the world around you and make an effort to learn the local language. Even if you will only be staying somewhere for two days, know how to at least say "hello," "please," and "thank you." It can be stressful to be in a location where you do not speak the language, but locals will notice if you are trying, and in return they will be much more responsive and helpful.
Do not ever be scared to embrace the opportunities that are presented to you. You learn so much about yourself in the short period of time that you are abroad, and it is an experience that you will take with you for the rest of your life.
What does an average day/week look like as a participant of this program?
An average day begins with coffee (of course). The walk to Sant'Anna from my apartment was about 15 minutes and was my favorite part of the day. If you leave early, you can walk slowly and enjoy the bustle of the city around you, sit on a bench and people watch, sit at the Marina that is located right behind Sant'Anna, or sit in the park and stare across the water at Mount Vesuvius.
Classes are always interactive and are only Monday through Thursday, which leaves us ample opportunity to travel. On certain Fridays, there are field trips for different classes (but if you aren't in that class and want to go, all you have to do is ask). Most of the trips are to places around Naples. For Archaeology, we visited active volcanic sites, Pompeii, and Herculaneum.
For History of the Mafia, we visited various locations around Naples, including a buffalo farm and the house of street musicians. Weekends are usually spent exploring, whether within Sorrento, or another city, or another county.
Going into your experience abroad, what was your biggest fear, and how did you overcome it and/or how did your views on the issue change?
My biggest fear and hurdle abroad was the potential to miss out on anything. I was scared that I would not be able to travel as much as I wanted and still be able to enjoy my time in Sorrento, as well as learn everything that is offered in the classroom and fully embrace my internship.
At times it was difficult to balance, but everything always works out.
I learned organization skills and time management. I learned that it is okay to ask for help when I needed it and to rely on other people. Admitting that you cannot do everything on your own perfectly does not mean that you are not independent and hard-working (I'll admit, it took me way too long to figure that one out).
My biggest adaptation was to plan events and trips ahead of time. This saved me from scrambling around last-minute, and in regards to travel expenses, I cannot emphasize enough how much money we saved.
Going into this experience, I knew already that I was going to need more time abroad. When I booked my flight, I made the return date to the United States about two weeks after the end date of my program. It is possible to change your flight date once you realize that you would like to stay longer, but it is more beneficial to be able to anticipate that and not have to go through the extra work and fees of switching dates.
Is there anything you would have done differently?
I loved every part of my semester abroad and would relive it again and again if I could. The only thing that I would ever think about changing would be my decision to live in an apartment.
Living in a homestay enables you to be directly immersed in the culture, practice the language, and eat home-made, authentic food. Also, two meals per day are included in the price of living in a homestay, which saves so much money in the long-run, whether for groceries or for dining out.
Also, SAI is different from many other study abroad programs because in certain locations you can have a roommate with your homestay. Sorrento is one of those special locations.
However, the reason why I chose to live in an apartment was freedom. I wanted to travel almost every weekend and be able to do whatever I wanted without feeling guilty about not spending enough time with my new family.
My advice for choosing a living arrangement is to figure out what your priorities are for studying abroad, and then choose the option that will help you the most in achieving those goals. At the end of the day, even though I sometimes think about how a homestay would have been different, I am certain that I made the right decision to live in an apartment with other students.