Why did you decide to volunteer abroad with AJWS in India?
Dave: I had learned of AJWS's programming during my freshmen year of college when I participated in their alternative spring break in Honduras. I was incredibly impressed by how they approached their partnership with the host NGO, and the degree of introspection and thoughtfulness that their curriculum demanded from participants. As soon as I learned they had a funded 1-year fellowship for post-graduates, I knew exactly what I was gearing my college experience towards! AJWS had gained my trust through a variety of programs I experienced (trips, classes, rallies), and I believed in their commitment to excellence. I knew I wanted to spend a year working with an international health/education NGO; I knew I wanted to work in a supportive role on-the-ground, assisting an organization in whatever was necessary, learning all that I could, gaining a better understanding of my comfort zone. And I knew that AJWS was the best avenue to pursue the in-depth opportunity I was seeking.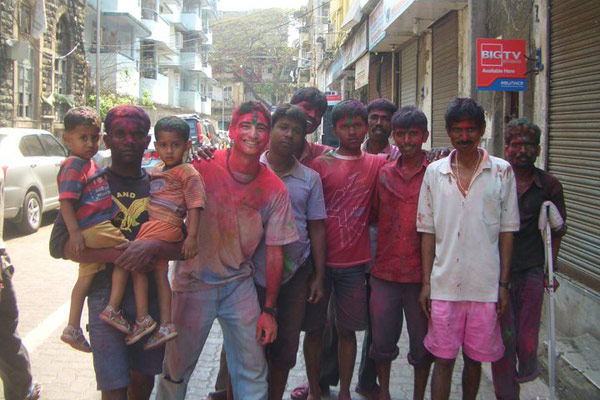 Describe your day to day activities as a volunteer.
Dave: I was working with a street-based drug rehabilitation network in Bombay, India named Sankalp Rehabilitation Trust. I served in an executive assistant position to our director. I enjoyed my work tremendously: developing computer training and gardening programs, expanding our donor base, building a new website, and developing the technological capacity of my coworkers. If the internet went out, I'd fix it. If my director couldn't attend a speaking engagement at a local church, I'd handle it. We were encouraged to take many tea breaks and all staff would eat a communal lunch.
What made this volunteer abroad experience unique and special?
Dave: I was amazed by the blurred line between strangers and friends, the triviality of privacy, the emphasis on joy, the pervading religious humility, and the default of generosity and inclusion.
My positive attitude and enthusiasm to learn Hindi allowed me to be welcomed in the NGO community, attending Narcotics Anonymous meetings, celebrating birthdays and festivals with coworkers' families, and forming close connections with clients and colleagues.
The New Year's sleepover party and Holi are some of the most memorable celebrations of joy and life I've ever experienced.
How has this experience impacted your future?
Dave: Having imbibed the Indian values mentioned previously, I constantly feel positively affected by the time I spent in India with AJWS, in how I work, in how I feel, in how I relate to people, and in what I care about. I have learned the extent of my adaptability, I know what I need (and what I don't), to make myself happy. I use Indian toothpaste, and carry-on Hindi conversations with co-workers. Following the example of most Indians, I live at home with my family (maybe not until I'm married, but for now). I am compelled to work locally, and serve as the founding Business Manager for The Equity Project (TEP) Charter School. Featured in The New York Times and on 60 Minutes, TEP is the school that pays its teachers a $125,000 salary to work on a team of master practitioners in an environment that values and develops teaching excellence. I have a deep sense of appreciation for AJWS, and encourage everyone to participate in their programming.