Why did you decide to volunteer abroad with AJWS in India?
Andrew: I decided to volunteer abroad with AJWS in India because I had been working in an entry-level office position in the international development field in the US and wanted to get hands-on field experience. I knew that having a year of development experience in India would strengthen my resume for future jobs. I also had a desire to get out there and actually see and work on projects in the field, rather than just support them from an office. I had participated in previous service trips abroad with AJWS while an undergrad and so I knew how the organization worked and knew they'd support me well while in India.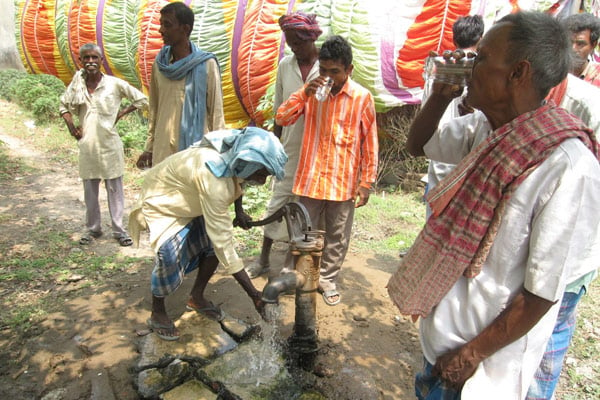 Describe your day to day activities as a volunteer.
Andrew: As a volunteer in a small town, I had a daily routine that did not vary much. The day started with a bumpy rickshaw ride to and from my house and the office. Most of the day was spent sitting in our NGO's office working on grant writing, proposal writing, donor report writing, project finances and contracts, project documentation, or communications work such as website or brochure design. I usually traveled around town once per day to go to other partner NGO offices. Most days I was at the office from 8am-7pm, since there was no internet where I lived and I could get more work done there. After work there were occasional games of badminton or cricket with my coworkers and neighbors, but I mostly would retreat to my house, cook dinner, and spend the rest of the night reading or writing.
What made this volunteer abroad experience unique and special?
Andrew: This experience was unique in that each fellow was matched with an NGO based on the fellow's skills preferences, and personality, and the NGO's needs. The matching process is very nuanced and AJWS does a great job pairing fellows with NGOs. Additionally, the fellowship is unique in that once a fellow arrives at his/her placement, the fellow can really take initiative to find and design projects that interest him/her. While it is expected that the fellow will support the NGO in whatever way is needed, there is much room for growth and individual work, provided the fellow is proactive about it.
Also, AJWS offers much in the way of support for fellows. Bi-weekly phone check-ins with staff, two in-country support personnel, a one-month orientation, midpoint retreat, and endpoint retreat, and other monthly activities. The network of fellows is very special, and probably the most important and vital support system while in India. Despite the distance between some fellows, all of us became very close during the experience.
How has this experience impacted your future?
Andrew: The work I did on the fellowship led directly to similar work back home. I was working with an NGO in India that centered on post-disaster shelter work, and when I returned to the US I found work within a couple months in the same field, working for a large humanitarian aid organization. For international development work, this field experience was a very big resume booster and opened many new doors for me. However, I grew even more personally than professionally while in India. The confidence, interpersonal, and cross-cultural skills I gained were indispensable and have contributed to who I am today.