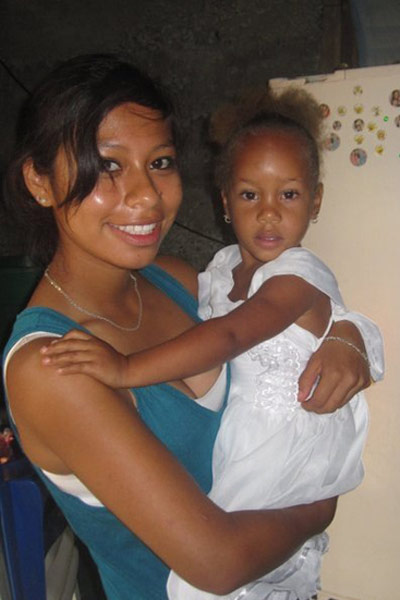 Why did you decide to volunteer with Amigos de las Americas in the Dominican Republic?
Callie: I decided to volunteer abroad with Amigos de las Americas because it was an opportunity of a life time. Most people don't have the chance to even go out of the country so I took it as a gift.
Describe your day to day activities as a volunteer.
Callie: While I was in community, I had two other volunteers with me. I lived in a three room house with the kitchen and the latrine outside. My female partner, Justine, and I roomed together. The population of the community was about 3,000 people.
We would wake up around 7am eat breakfast (yucca), walk around meet the community members until lunch. We had a meal plan where we would go to a different persons house for lunch and dinner. We mostly had breakfast at our own host family's house rarely were we there for lunch or dinner.
Over the summer, we collaborated with the youth in the community and decided to paint a mural for the kids on the local school wall. We also had a summer camp for the younger kids to teach them about their rights such as the right to be yourself, the right to a safe environment and the right to participate.
What made this volunteer experience unique and special?
Callie: Living in the Dominican Republic helped me grow up. What I mean is that, I realized the importance in life. I met my best friend there which was Justine. She lives in a different state but our friendship is still burning. I learned that family is very important. Everyone has family weather it be actual parents, friends or a group such as AMIGOS.
How has this experience helped you grow personally and professionally?
Callie: This experience has impacted my future tremendously in so many positive ways. I had gotten very homesick but after the first day but by the end of my experience there I am able to be very independent. I also got sick with a stomach illness and I fought through it which showed the strength I had that I didn't know I had. I became more confident and outgoing. After return from the Dominican Republic, i found my passion: teaching kids. I will be studying for a bachelors degree in elementary education and I will be minority in Spanish at the Northern Arizona University. This once in a life time experience helped me break out of my shell and discover things I didn't even know about myself. I thank God, my parents, and Amigos de las Americas for the opportunity to travel abroad to the Dominican Republic.