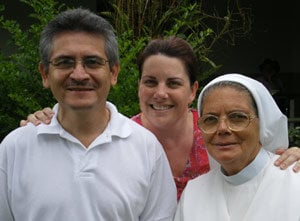 Why did you decide to volunteer with CCS in Costa Rica?
Denise: At the age of 41, after 13 years in a corporate job, I was down-sized and wondering "now what". I was part of the first wave of "gappers" - displaced employees wondering how to restart their career in a down market. I realized this was finally my opportunity to re-group, take a breath, and do the volunteer work that my job always made impossible.
Searching for local volunteer opportunities on VolunteerMatch, I ran across a listing for CCS programs. Volunteering abroad seemed like the perfect combination of "service" and "vacation" that could help redirect my restless soul. I had always wanted to go to Costa Rica, as well as some of the other CCS locations listed. In the end, I chose the location based upon the timing, availability, and ease of getting to Costa Rica with direct flights from my home in Pennsylvania.
The CCS staff was extremely helpful in streamlining the registration process. I had a counselor available for questions - who actually spent time with me on the phone. And I was offered the opportunity to connect with former volunteers via phone to truly prepare myself for what was to come. We were also given lists of other volunteers who would be joining the program at the same time. I was a little daunted to see that I was among the oldest of the volunteers - which ultimately was irrelevant. Volunteering requires a mind-set, not an age - and success comes with an open heart and a willingness to share.
Describe your living conditions as a volunteer.
Denise: Upon arrival at our CCS "house", it turns out that much of the staff spoke only Spanish, and many of the volunteers spoke only English. We enjoyed some comical "charades" learning to communicate with one another, which was actually a great ice-breaker. The rooms were small, dorm-style with 6 bunk beds per room and a shared bathroom. Hot water is almost non-existent, and really a non-issue in the muggy air. The food is simple, hearty meals, made of local fresh ingredients. I wish the cook spoke English as I would have loved to learn more about her cooking.
Describe your daily activities as a volunteer.
Denise: We woke up at 6:30, had breakfast at 7:30 and headed to our "placement" - a short walk - by 8:15. My task - spending time at a local nursing home run by nuns. Our job was to spend the next 4 hours coaxing the seniors into the community room and getting them "active". I, and the 2 other assigned volunteers, would enter each morning and start setting up the community room. We would get a large group of regulars who wanted take advantage of contact with the outside world, and the opportunity to interact with people who were dedicated to filling their time.
Getting Personal: From about 8:45 to 9:30 we do exercises or calisthenics to music (generally a cumbia CD playing in the background). I struggled over the course of 2 weeks to add more and more Spanish words so that I could describe the motions I wanted them to follow (las olas! as I wave my hands over my head). The seniors found my efforts amusing. We then moved on to other activities like playing a round robin game of ball - passing back and forth to those in wheelchairs, a balloon toss, bowling (in which I did the equivalent of 1000 lunges a day resetting the pins as they knocked them over). We created new games , and took a few seniors outside for more strenuous games of ball when possible.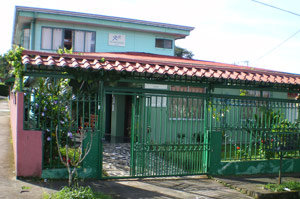 At 11:30 they headed to lunch and we cleaned up from our first round of activities. At about 12:00, some would drift back in for quieter activities like painting or bingo. This is where I learned to count to 100 in Spanish calling bingo numbers! We also created some paper crowns to honor our "reine or reina" (bingo King or Queen) for each round so that there was some visual reward for playing (mini bragging rights!).
Around 12:30 we cleaned up and headed back to our house amid hugs and kisses from our new "friends" who tell us to "go with god" and offer wishes for our good health. We head back to the home base for lunch and the rest of the day is ours. Some days an activity is planned for us - a trip to an organic farm, a Spanish lesson, a trip to a coffee plantation - or we can wander the town, go to the local markets (for our own private stash of after hour snacks), visit an internet cafe to communicate with friends and family, but mostly we take the time to chill with other volunteers, talk and get to know each other.
Dinner is at 5:30, and once a week there is an evening dance class to teach us local dances like cumbia. Many volunteers brought musical instruments and we listened to them play as we played cards, wrote letters, etc... My one free weekend, I and a group of 11 other volunteers rented a van and driver and headed 4 hours north for a weekend at the Monteverde Cloud Forest. The younger crew stayed in hostels, the rest of us treated ourselves to hotel rooms with our own bathrooms/showers, and we explored the area. Ziplines, canopy tours, flora, fauna, dinner and relaxation.
How has this experience impacted your future?
Denise: After arriving home, for the first week I would find myself looking at the clock, subtracting 2 hours, and wondering what the other volunteers, who were still there, were doing. "Gee, it's 8:30, Jennifer must be in the middle of calisthenics - I wonder if Benedicto came to participate?" Being bombarded by newspapers, tv, and phones after 2 weeks of isolation was disorienting.
On the other hand, after 2 weeks in Puriscal, I also had a new view of life. Having spent time with another volunteer that was an ESL instructor in Canada, I found a new passion as a volunteer ESL tutor in the US, which I pursued for 2 years after my return until a new job schedule intruded. My last student passed her citizenship test and I couldn't have been more proud! I probably would never have developed that passion had it not been for my CCS experience.
As I go back to my journal from my time in Puriscal, I find that I wrote the following: "What did I learn? I learned that I am an amazing person; that I can rise to the occasion; that I have insecurities - but I don't need to be defined by them. Whatever new job comes along will be wonderful if I want it to be. And in many ways I wouldn't start over again even if I could. I just need to move forward the way I want things to be. Find love, be happy and live life to the fullest..."
If you've been a volunteer, you'll never forget the experience. And if you are just thinking about volunteering - stop thinking. Just do it.