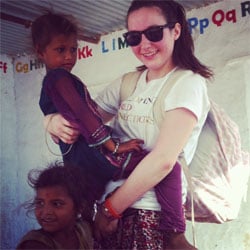 Why did you decide to volunteer abroad with DWC in India?
Torry: I really like the idea that DWC has "no professional, political, or religious affiliation." Anyone can come, any age, income, or gender; it makes the trip so diverse and you end up making lifelong friends. Some say that they owe nothing to the world, but I disagree. Our generation, for the most part, is ungrateful for all the privilege we have. I feel embarrassed to look at all the things I own and that I don't even need, while others lack clean water and the opportunity to receive education. The developed world has so much and unfortunately gives back so little. It is easy to ignore the problems that face millions, but once you know about them, and once you have seen firsthand the struggles that some people must encounter every day, it isn't an option to stand by and do nothing. These are just some of the lessons I have learned throughout my life especially through the DWC trips I have been a part of. I know I can use leadership and community service to better the world and I plan on taking full advantage of this.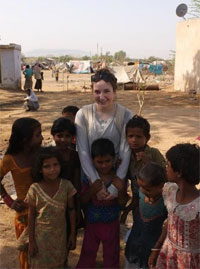 Describe your day to day activities as a volunteer?
Torry: We would wake up and eat breakfast and get ready for work at around 6 AM. We would walk to our worksite at 7 and we helped move rocks, conveyor belt-style throughout the area. This let the masons build the foundation that was built in dug out trenches. We also got to visit children in Banjara Basti and watch a couple of their school lessons. We got a tour around their homes and got to hear their stories.
What made this volunteer abroad experience unique and special?
Torry: I think that every volunteer abroad experience is special, but this one was for me because it was the first group I lead. It was unique because we got to learn cultural lessons from Madan on Hindi, women and children in India, Hindu feng shui, Hinduism, cooking lessons, Indian dressing, and about India's geography. We got to hear how locals lived and what they did for work and leisure time. We heard about their cultural traditions and the history of monuments. I'll always remember the kids of Banjara Basti as well as the women who work endlessly there.
How has this experience impacted your future?
Torry: I've always known that I have wanted to be a psychologist. But after I went on this volunteer trip, I changed my career focus slightly. I want to work in developing countries (as well as Canada) as clinical psychologist. My dream job is to provide solutions to reduce emotional psychological distress and promote well being in children of developing countries. Many kids can suffer from violence, illness, malnutrition, death of family members, disease, and other psychological and psychosocial traumas. They can have cognitive and emotional limitations because of their living conditions. A child's development can be stunted because of lack of education and poor economic status. Being a volunteer and seeing the impact of volunteer work is the drive behind working hard in school to follow my dreams.